---
EPIC Midstream Holdings, LP announced yesterday that it has secured strategic partnerships for the EPIC crude oil pipeline, which will run side-by-side with the EPIC natural gas liquids (NGL) pipeline for 730 miles from southeastern New Mexico to Corpus Christi, Texas. The EPIC pipelines are backed by capital commitments from funds managed by the Private Equity Group of Ares Management, L.P.
Apache Corporation and Noble Energy have committed to anchor the EPIC crude oil pipeline, which will have an initial total capacity of 590 000 bpd, including 440 000 bpd from the Permian Basin and 150 000 bpd from the Eagle Ford. Apache and Noble Energy have secured 75 000 bpd and 100 000 bpd of firm capacity, respectively. More than 500 000 acres have been dedicated to the EPIC crude oil pipeline, including dedications from Apache and Noble Energy. At least 10% of system capacity will be reserved for uncommitted shippers.
Additionally, EPIC is engaged in ongoing commercial negotiations representing at least 500 000 bpd in potential volume commitments and acreage dedications for the crude pipeline, in addition to 175 000 bpd capacity provided to Apache and Noble Energy. Pending the final result of the commercial process, the EPIC crude oil pipeline may be upsized to a 30 in. line, expanding Permian Basin capacity from 440 000 bpd to 675 000 bpd.
"As one of the largest acreage holders in the Permian Basin, Apache's participation in the EPIC crude oil pipeline helps to ensure takeaway capacity for our production from the region. The partnership enhances our long-term operational flexibility and market optionality in our Delaware and Midland Basin focus areas," said Brian Freed, Apache's Senior Vice President, Midstream and Marketing. He noted that the EPIC crude oil partnership aligns with previously contracted shipping from the region and complements the significant field infrastructure being built for the development of Alpine High, a world-class oil, natural gas liquids and gas field the company discovered in 2016.
"Noble Energy's strategic agreement with EPIC provides long-term flow assurance for our rapidly growing Delaware Basin oil volumes. With this agreement, we have further diversified our onshore marketing outlets with access to the Gulf Coast and global markets," said Gary W. Willingham, Noble Energy's Executive Vice President, Operations.
"Partnering with Apache and Noble Energy adds tremendous strategic value to EPIC as we build out our crude footprint," said Phillip Mezey, Chief Executive Officer of EPIC Pipeline.
"We are excited to be partnering with some of the leading energy companies in the world to develop these critical infrastructure assets," said Nate Walton, Partner and Co-Head of North American Private Equity at Ares Management.
As part of their EPIC strategic partnerships, Apache will have an option to acquire up to 15% of the equity in the EPIC crude oil pipeline, and Noble will have an option to acquire up to 30% of equity in the EPIC crude oil pipeline, as well as up to 15% of the EPIC NGL pipeline. All options expire in 1Q19.
The EPIC crude oil pipeline will extend from Orla, Texas to the Port of Corpus Christi, Texas. The project includes terminals in Orla, Pecos, Saragosa, Crane, Wink, Midland, Helena and Gardendale, with Port of Corpus Christi connectivity and export access. It will service the Delaware, Midland and Eagle Ford Basins. Right of way is 100% secured for the first two phases of the system and construction is expected to commence in 4Q18. The crude system is expected to be in service in the second half of 2019.
The EPIC NGL pipeline has previously signed definitive agreements with BP Energy Company to anchor the pipeline and has also entered into a strategic arrangement with Salt Creek Midstream. Phase one of the EPIC NGL pipeline is currently in operation, and it extends from DLK Black River Midstream to Delaware Basin Midstream. Phase two, which will run from Delaware Basin Midstream to Benedum, Texas, is currently under construction with an expected in-service date of June 2018. Phase three, which will run from Benedum to Corpus Christi is expected to be in service by the second half of 2019.
Read the article online at: https://www.worldpipelines.com/business-news/11052018/epic-secures-strategic-partnerships-for-crude-oil-pipeline/
You might also like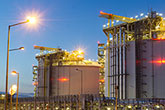 Prices pick up slightly but continue to remain deflated worldwide; prices did not respond as they did in 2022 despite disruption of gas pipeline supplies in Europe by multiple maintenance works.