---
Kingfisher Midstream, LLC, a wholly owned subsidiary of Alta Mesa Resources Inc., Blueknight Energy Partners, L.P. (BKEP), and affiliates of Ergon, Inc., today announced the execution of definitive agreements to form Cimarron Express Pipeline, LLC. The venture will include the construction and operation of a new crude oil pipeline serving STACK producers in central Oklahoma with a new 65 mile, 16 in. crude oil pipeline extending from northeastern Kingfisher County, Oklahoma, to BKEP's Cushing, Oklahoma, crude oil terminal. The pipeline will provide direct market access at Cushing for producers and will have an initial capacity of 90 000 bpd, expandable to over 175 000 bpd. The new pipeline is expected to be completed in mid 2019.
The ownership of Cimarron Express will be 50% Kingfisher Midstream and 50% Ergon. Ergon, owner of the general partner of BKEP, will hold its ownership in Cimarron Express through a newly created, wholly owned subsidiary, ERGON – OKLAHOMA PIPELINE, LLC (Devco). Ergon and BKEP also entered into an agreement that gives each party rights concerning the purchase or sale of Devco, subject to certain terms and conditions.
Concurrent with the formation of Cimarron Express, Alta Mesa executed a long-term acreage dedication and transportation agreement with Cimarron Express, which incorporates approximately 120 000 net acres in Kingfisher and Garfield counties.
Under the terms of the agreement, BKEP will construct and operate the pipeline. Also, BKEP will continue to operate its existing crude oil storage facilities in Cushing, Oklahoma. The receipt terminal for the newly constructed Cimarron Express pipeline will be located at Kingfisher Midstream's crude oil storage facility located in northeastern Kingfisher County. The pipeline will connect to Kingfisher Midstream's crude oil gathering system and truck unloading facilities at the Kingfisher Midstream crude oil facility.
"We are excited to participate in this project which will provide direct market access to the Cushing Oil Terminal for STACK producers and afford them the opportunity to maximise the value of their crude oil production," added Craig Collins, COO of Kingfisher Midstream. "We also see long-term value in this project for Kingfisher Midstream as we aggregate STACK oil volumes on our crude gathering system to deliver to Cimarron Express."
"We are pleased to be participating in this important project with a leader in the development of the prolific STACK production area in Oklahoma," commented Mark Hurley, CEO of BKEP. "This pipeline will create a direct connection to our storage assets at our Cushing Crude Oil Terminal, enabling Alta Mesa Resources and other STACK producers to efficiently and safely move their production to the market. The addition of this pipeline underscores our commitment to work with exploration and production companies to build the needed infrastructure to support their capital investments. We are also happy to be working with Ergon, the owner of our general partner, who is supporting this project through the Devco structure. It is another example of the strategic relationship we envisioned when Ergon purchased our general partner in 2016."
"This venture continues Ergon's support of BKEP and our 64-year history of operations in the crude oil and petroleum market," commented Emmitte Haddox, Ergon CEO. "As BKEP's general partner, we are excited about working with Alta Mesa Resources on this project that will create value not only for our companies, but for other STACK producers, customers, and the communities in which we operate."
Read the article online at: https://www.worldpipelines.com/business-news/10052018/new-crude-oil-pipeline-for-oklahoma/
You might also like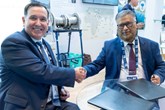 The partnership is to bring critical flange isolation offerings for the Kingdom of Saudi Arabia.