---
Kpler, the leading data and analytics firm providing real-time transparency in commodity markets, has announced that it has acquired ClipperData, a data and analytics firm headquartered in New York City, US.
Since its founding in 2013, ClipperData has developed a unique data offering for the global commodity markets, with a long pedigree in petroleum liquids coverage particularly in the US. Its proprietary data is used by hundreds of industry professionals, including leading oil and gas companies, traders, utilities and financial institutions.
By integrating the best of the two businesses (proprietary data, technology, analysis and people), the ambition of Kpler is to provide commodity professionals with the highest level of market transparency, and allow them to further increase their understanding of the market.
Through this acquisition, Kpler is fulfilling one of its strategic objectives by consolidating its leadership in the markets it already serves and accelerating its growth.
"In under three years, we will have more than quadrupled our Annual Recurring Revenue (ARR) to US$40 million. This acquisition accelerates our growth further and gets us closer to our ambition of reaching US$100 million ARR sooner. We are honoured ClipperData has accepted Kpler's offer and are excited to bring the two businesses together to strengthen our market leadership" said Franc¸ois Cazor, Chief Executive Officer, Kpler.
"Kpler and ClipperData have built their reputations around high quality proprietary data, each with exclusive sources and unique applications of machine learning. We are looking forward to integrating these complementary attributes to bring to the industry a product of unrivalled comprehensiveness and accuracy", Jean Maynier, Chief Technology Officer, Kpler.
"We are proud of what ClipperData has achieved since its creation and feel confident in leaving its legacy in Kpler's hands. Most importantly, I believe that our customers will benefit tremendously from the unmatched services that the combined companies will be able to offer", said Sterling Lapinski, Co-Founder, ClipperData.
Read the article online at: https://www.worldpipelines.com/business-news/09092021/clipperdata-acquired-by-kpler/
You might also like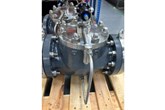 Oxford Flow expands its product range and grows market potential with new high- and low-pressure pilots.