---
Apache Corporation and Kayne Anderson Acquisition Corp. (KAAC) have announced an agreement pursuant to which Apache will contribute its midstream assets at Alpine High to Altus Midstream LP, a partnership jointly owned by Apache and KAAC. At closing, KAAC will be renamed Altus Midstream Company. Altus Midstream will be structured as a C-corporation anchored by substantially all of Apache's gathering, processing and transportation assets at Alpine High, a world-class, unconventional resource play in the Delaware Basin. The company will also own options for equity participation in five gas, NGL and crude oil pipeline projects from the Permian Basin to various points along the Texas Gulf Coast.
"The transaction with Kayne Anderson Acquisition Corp. creates a premier midstream enterprise to service Alpine High, an enormous, highly economic upstream resource base in the Permian Basin, the most active oil and gas region in the world. Alpine High contains more than 5000 ft of vertical hydrocarbon bearing formations across approximately 340 000 contiguous net acres," said John Christmann IV, Chief Executive Officer and President of Apache.
"For Apache, this is a very strategic transaction with a world-class partner at an attractive valuation. Since our discovery of Alpine High, we have invested nearly US$1 billion in an extensive network of fit-for-purpose infrastructure to meet the current and future processing and transport needs of the play. The announcement is a strong endorsement of the quality of investment we have made to date.
"This transaction facilitates the allocation of Apache's capital to the development of the vast Alpine High upstream resource base. In turn, focused capital development in the upstream should bring significant growth to Altus Midstream for many years to come," concluded Christmann.
Kevin McCarthy, Chairman of the board of directors of KAAC, stated, "We are very excited to partner with Apache to form Altus Midstream. This transaction fits all the criteria we outlined at the time of KAAC's initial public offering and creates a pure-play, Permian-focused midstream C-corp. We believe investors will appreciate the clear alignment of interests between Altus Midstream and Apache as well as the company's investor-friendly structure. Altus Midstream does not have incentive distribution rights and is well positioned to execute on its growth plans. We look forward to working with our partners to create value for Altus Midstream's shareholders."
Brian Freed, Apache's Senior Vice President, Midstream and Marketing, who will become the Chief Executive Officer of the new company, said, "We are launching Altus Midstream with the support and financial strength of Apache and Kayne Anderson, two highly respected industry leaders. We have a strong growth platform at Alpine High with a large, contiguous acreage dedication in a proven play, infrastructure in-place to accommodate a significant ramp in volume, and options for equity participation in five planned pipelines that will provide connectivity from the Permian Basin to the Texas Gulf Coast.
"Altus Midstream expects to have more than US$900 million of cash and no debt at closing and is projected to be free-cash-flow positive by 2021. With this strong financial position, the company will have substantial borrowing capacity to accommodate its growth plans. We see great opportunities to expand our asset base in Alpine High, in surrounding areas of the Delaware Basin, and elsewhere in the Permian Basin. We will have the financial capacity to expand our footprint both in terms of our physical asset base as well as the ability to access volumes from third-party operators outside of Alpine High," concluded Freed.
Altus Midstream assets
The Altus Midstream assets include rich-gas processing plants with inlet capacity of 380 million ft3/d, lean-gas treating and compression plants with inlet capacity of 400 million ft3/d, 123 miles of gathering pipelines, and 55 miles of processed gas pipelines with three market connections. By the end of 2020, Altus Midstream plans to add 1 billion ft3/d of cryogenic, rich-gas processing.
Additionally, Altus Midstream will hold options to purchase equity ownership in five planned pipelines, including:
Gulf Coast Express: Option for up to 15% interest in a natural gas pipeline to Agua Dulce; operated by Kinder Morgan, expected in-service date in October 2019.
Salt Creek NGL Line: Option for 50% interest in an NGL header from Alpine High to Waha; operated by Salt Creek Midstream, expected in-service date in 1Q19.
EPIC Crude: Option for up to 15% interest in a crude oil pipeline to Corpus Christi; operated by EPIC Midstream Holdings, expected in-service date in the second half of 2019.
Shin Oak: Option for up to 33% interest in a long-haul NGL line to Mont Belvieu; operated by Enterprise Products Partners, expected in-service date in 2Q19.
Permian Highway: Option for up to 33% interest in a proposed natural gas pipeline to Katy/Agua Dulce (subject to agreement on definitive documentation); to be operated by Kinder Morgan, expected in-service date in late 2020.
Read the article online at: https://www.worldpipelines.com/business-news/09082018/creation-of-altus-midstream-company/
You might also like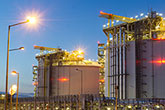 Prices pick up slightly but continue to remain deflated worldwide; prices did not respond as they did in 2022 despite disruption of gas pipeline supplies in Europe by multiple maintenance works.