---
The vessel was named Khankendi by the President of Azerbaijan, H.E. Ilham Aliyev, at a ceremony in Baku Shipyard on Wednesday and launched by the Shah Deniz consortium.
Baku Shipyard LLC (Baku Shipyard), a joint venture between Keppel Offshore & Marine Ltd (Keppel O&M), State Oil Company of Azerbaijan Republic (SOCAR) and Azerbaijan Investment Company (AIC), has completed a Subsea Construction Vessel (SCV) for the Caspian region.
The Khankendi will be deployed to the Shah Deniz field where it is expected to perform subsea installation and construction work over the next 11 years. The SCV was specifically designed and built to install the biggest subsea production system in the Caspian Sea as part of the Shah Deniz Stage 2 project.
Mr Abu Bakar, Managing Director (Gas and Specialised Vessels), Keppel O&M, said, "We are proud to have designed and built this highly sophisticated SCV for the Shah Deniz consortium, the first such vessel to be built in the Caspian region. It is a demonstration of how Keppel O&M harnesses synergies across its global network of yards through Keppel Singmarine, Baku Shipyard and Marine Technology Development to deliver innovative solutions for Azerbaijan, which is a land-locked country. Over the last two decades, we have delivered a number of significant projects for Azerbaijan, such as the semisubmersible rig Heydar Aliyev four months ago, and look forward to continue supporting Azerbaijan's oil and gas industry."
The Khankendi underlines Keppel O&M's expertise in specialised vessels. It was built to the design of Marine Technology Development, the ship design and development arm of Keppel O&M, while Keppel Singmarine, a subsidiary of Keppel O&M, had built the vessel's hull as two longitudinal strips to enable safe transportation through the narrow Volga-Don Canal to Baku Shipyard, where the vessel was completed. The vessel is 155 m in length and 32 m in width with 2000 m2 of deck space. It has a total weight of 17 600 t, a carrying capacity of 5000 t at 6.5 m draft and two engine rooms with 6 x 4.4MW and 2 x 3.2MW generators.
It is equipped with dynamic positioning to allow working in 3.5 m significant wave height, a 900 t main crane capable of placing 750 t subsea structures down to 600 m below sea level, an 18 man two-bell diving system, two work-class ROVs and a strengthened moon pool. The Khankendi can carry out complex activities without the need for anchors. The vessel has a maximum capacity of 175 people on board, including the marine crew and discipline specialists.
Read the article online at: https://www.worldpipelines.com/business-news/08092017/new-keppel-subsea-construction-vessel-launched/
You might also like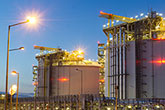 Prices pick up slightly but continue to remain deflated worldwide; prices did not respond as they did in 2022 despite disruption of gas pipeline supplies in Europe by multiple maintenance works.