---
A university spin-out and a Scottish Innovation Centre are joining forces to tackle a huge challenge for the oil and gas sector: how to detect corrosion under insulation (CUI).
In the downstream segment alone, over £2 billion is spent in total annually on CUI inspections involving more than 700 crude oil refineries. Of more than 2 million miles of pipeline, some 25 - 30% are prone to CUI, and therefore needing monitoring.
Industry-wide, monitoring costs are estimated to be around £3.5 billion annually.
Current practice relies on periodic removal of insulation and non-destructive testing (NDT) in selected areas to check visually for corrosion. This new project will explore the use of remote sensors to monitor corrosion continually without the need to physically remove insulation.
The 12 month project involves CorrosionRADAR Ltd, a spin-out from Cranfield University, and Scotland's Innovation Centre for Sensor and Imaging Systems (CENSIS). Funding for the £98 000 project includes a £68 896 grant from Innovate UK, under its recent Innovation in UK Infrastructure Systems funding round.
Financial, safety and environmental benefits
As well as cutting the financial costs associated with manual corrosion monitoring (which may involve assets being shut down), CorrosionRADAR and CENSIS want to reduce the need for people to work in challenging conditions to remove insulation.
Their project could also open the way for a predictive maintenance regime, based on Internet of Things (IoT) infrastructure and cloud-based data analytics.
Both more cost-effective and more proactive than manual selective monitoring, predictive maintenance could help operators prevent the failure of assets due to corrosion. These failures can cause downtime and lost revenues for operators; at worst, they can be catastrophic in health and safety and environmental terms.
With distributed sensors and predictive monitoring capabilities, operators in these industries would also be better positioned to extend the life of their assets.
"Tackling CUI in the oil and gas industry is the first application we foresee for this technology," says Dr Chiraz Ennaceur, CEO of Corrosion Radar. "In the downstream segment alone, there are more than 700 crude oil refineries with over 2 million pipelines – and 25 - 30% of these are prone to CUI. So, the need for better monitoring technology is huge.
"And oil and gas is not the only application. From the nuclear industry, where pipes are enclosed in concrete, to renewables to construction, there's a need for better ways to manage CUI. This project could help to put the UK at the leading edge of this global issue."
Chemical company Solvay is already trialling a CorrosionRADAR distributed sensor system on its plant, and Alvaro Martinez Lopez, Corporate Excellence Manufacturing Engineer at Solvay, states: "Across a range of industries, the better data made possible by sensors and IoT should allow operators to make informed decisions around corrosion, and the fitness for purpose and safety of assets."
Opening the door for IoT enablement
In this project, CENSIS will help CorrosionRADAR to integrate its corrosion and moisture sensors with IoT infrastructure, including long-life, battery-powered wireless data logging using industry protocols such as LPWAN, and cloud-based analytics. This will enable data from the sensors to be delivered cost-effectively to end-users as actionable information – even from areas that are currently off-grid in terms of power provision and connectedness.
The 12 month project will carry out a technical feasibility study for IoT enablement of the sensors, feeding directly into IoT infrastructure design and product development. With this place, the door is opened for the future work to design a predictive maintenance model.
There would also be potential for UK manufacturing and technology providers around the knowledge developed.
Dr Rachael Wakefield, CENSIS Business Development Manager, noted: "This CENSIS project with CorrosionRADAR is specifically around tackling corrosion, but it relates to a wider change – digital enablement and the use of IoT and sensor systems to make our infrastructure smarter.
"Intelligent sensing capability, combined with low-cost power and secure wireless infrastructure, has immense potential for improving the safety and resilience of our infrastructure, reducing maintenance costs, and increasing operational efficiency – and this goes far beyond managing corrosion. CENSIS is working with companies in different sectors to realise the UK's potential in this field."
Read the article online at: https://www.worldpipelines.com/business-news/08062018/sensor-project-tackles-billion-pound-challenge-of-hidden-corrosion/
You might also like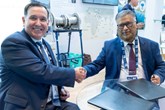 The partnership is to bring critical flange isolation offerings for the Kingdom of Saudi Arabia.