---
Noble Midstream Partners ('Partnership' or 'Noble Midstream') and Greenfield Midstream LLC have exercised the option to acquire a 20% interest in the Saddlehorn Pipeline through its Black Diamond Gathering joint venture.
Following a successful open season, the Saddlehorn Pipeline is expanding by 100 000 bpd, to a new total capacity of 290 000 bpd. The incremental capacity is expected to be available in late 2020 following the addition of incremental pumping and storage capabilities. There will be no additional capital required by Black Diamond in 2020 for the expansion of the pipeline.
Backed by minimum volume commitments from high quality producers, the Saddlehorn Pipeline acquisition gives Black Diamond entry into high multiple, stable cash flows at competitive valuation. The acquisition is expected to generate returns above the company's organic capital plan and bolster the quality and diversification of the Partnership's cash flows.
With the pipeline online, Black Diamond anticipates cash distributions in the 1Q20. NBLX expects the acquisition to be leverage neutral to 2020 credit metrics and is expected to pay for the acquisition through cash on hand and the revolving credit facility. The effective date of the transaction was 1 February 2020; Noble Midstream 2020 guidance included the Saddlehorn acquisition and remains unchanged.
Commenting on the acquisition, Noble Midstream President and Chief Operating Officer Robin Fielder said, "This accretive transaction represents a rare opportunity to buy into a largely contracted pipeline with high-quality producers and midstream operators. Saddlehorn strengthens the Black Diamond position as the premier full-service crude transportation provider in the DJ Basin and enhances the value proposition provided to our customers. Further, this investment is anticipated to generate high rates of return, provide diversification, and increase our exposure to stable cash flow streams."
Noble Midstream operates Black Diamond, which includes a large-scale integrated crude oil gathering system in the DJ Basin, consisting of approximately 240 miles of pipeline in operation, 300 000 bpd delivery capacity and 390 000 bpd crude oil storage capacity. The system is connected to every major takeaway pipeline in the DJ Basin, including the White Cliffs Pipeline, the Saddlehorn Pipeline, the Grand Mesa Pipeline, and the Pony Express Pipeline. Greenfield Midstream owns 45.6% of Black Diamond. Noble Midstream and Greenfield Midstream jointly provide commercial efforts to bring additional producer dedications to Black Diamond Gathering and pursue expansion opportunities.
Read the article online at: https://www.worldpipelines.com/business-news/05022020/interest-in-the-saddlehorn-pipeline-acquired/
You might also like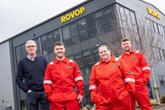 ROVOP focused on producing the 'next generation' of ROV pilots, adds three new trainees to its training programme.