---
Trans Mountain Corporation (TMC) has posted the company's financial statements and associated management report for the three- and nine-month periods ending 30 September 2019. The company's financial results were also included in Canada Development Investment Corporation's consolidated quarterly financial statements.
TMC recorded net income of CAN$20.2 million and Adjusted EBITDA of CAN$47.3 million for the three months ended 30 September 2019 and net income of CAN$107.3 million and Adjusted EBITDA of CAN$145.1 million for the nine months ended 30 September 2019. Total throughput on the pipeline for the nine-month period averaged approximately 315 000 bpd and throughput to Washington State on the Puget pipeline averaged approximately 202 000 bpd for the period.
"Trans Mountain's third quarter marked the re-start of construction on the Expansion Project at our Burnaby and Westridge Terminals in B.C., mobilisation in Alberta and significant progress towards getting construction underway more widely by the end of the year," said Ian Anderson, President and CEO of Trans Mountain Corporation. "Third quarter performance built on the strong start to the year both operationally and financially. Our health and safety measures continued to outperform industry rates, a testament to the strong culture of safety responsibility within the organisation."
On 19 July 2019, the National Energy Board (now the Canada Energy Regulator) announced that the decisions and orders issued prior to the August 2018 Federal Court of Appeal decision, will remain valid unless they determine that relevant circumstances have materially changed. On 22 August 2019, construction on the Expansion Project resumed including the receiving and staging of materials. Capital expenditures on the Expansion Project are expected to total approximately CAN$1.3 billion in 2019. Additional expenditures of approximately CAN$80 million are expected on other capital projects down slightly from the June forecast of CAN$85 million due to timing of projects.
Read the article online at: https://www.worldpipelines.com/business-news/02122019/trans-mountain-corporation-releases-3q19-results/
You might also like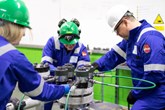 3t EnerMech named regional winner at top engineering awards for the second year in a row.