---
September 2021 saw an upward trend in Brent crude oil prices and an increase in global liquids demand as many countries continued to ease COVID-19 restrictions.
Fluctuations in short-term signposts compared to the prior month include:
Oil prices:
Brent crude oil prices were mainly on an upward trajectory throughout September, averaging US$74.5/bbl for the month. The bullish market is partly due to a sharp rise in natural gas prices, which has made oil a relatively cheaper alternative for power generation, increasing demand in Europe and Asia.
Global oil demand. Global liquids demand rose by 0.81 million bpd in September to 99.29 million bpd, the highest point since December 2019. Overall, liquids demand is up by 4.5 million bpd y-o-y as most countries continue to ease restrictions.
Commercial inventories:
Commercial inventories increased slightly m-o-m by 11 million barrels. Overall, global inventories are back at 5-year average levels at 4.4 billion barrels globally, as market balancing continues.
OPEC 10 production (excl. Iran, Venezuela, Libya). OPEC 10 production increased by 0.4 million bpd as the bloc continued to increase output in light of rising demand. The production increase was mainly driven by Saudi Arabia, where output rose by 0.1 million bpd m-o-m to 9.65 million bpd.
Non-OPEC production (excl. US shale). Non-OPEC production stood at 56.9 million bpd in September, up by 0.1 million bpd m-o-m. Russian production saw the largest m-o-m increase of 0.30 million bpd as OPEC+ eased production curbs, followed by Brazil at 0.14 million bpd m-o-m increase.
US shale oil production. US shale production increased by 0.05 million bpd to 8.07 million bpd. Although production is up by 0.2 million bpd y-o-y, it is still below pre-pandemic levels of >9 million bpd as producers prioritise returns over higher output.
Iran, Venezuela, Libya production. Production in Iran, Venezuela, and Libya decreased by 0.03 million bpd in September to 4.18 million bpd. This decrease was driven by a slight fall in Libyan output, while production in Iran and Venezuela remained steady m-o-m.
Market sentiment:
Ongoing global vaccination efforts and easing of restrictions is continuing to boost global liquids demand, although uncertainty remains over the spread of COVID-19 during the upcoming winter period which could slow down recovery.
On the supply side, OPEC+ reconfirmed its plans to boost output by 400 000 bpd until at least April 2022, to help stabilise the market and phase out 5.8 million bpd of existing production cuts.
Read the latest issue of World Pipelines magazine for pipeline news, project stories, industry insight and technical articles.
World Pipelines' November 2021 issue
The November issue features two reports on the Mediterranean midstream oil and gas industry, explaining why there is cause for cautious optimism in the region going forward. Other technical articles cover topics including flow control technologies, construction challenges on the Gas Interconnector Greece-Bulgaria (ICGB) project, and pipeline surveillance.
Read the article online at: https://www.worldpipelines.com/business-news/02112021/mckinsey-snapshot-of-global-oil-supply-and-demand/
You might also like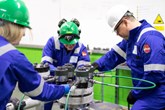 3t EnerMech named regional winner at top engineering awards for the second year in a row.