---
The 'Global Pipeline Security Systems Market – Segmented by Products, Technology and Solutions, and Region – Growth, Trends, and Forecast (2018 - 2023)' report has been added to ResearchAndMarkets.com's offering.
The global pipeline security systems market was valued at US$6.1 billion in 2017, and is expected to reach a value of US$10.07 billion by 2023, at a CAGR of 8.59%, during the forecast period (2018 - 2023).
The scope of the report is limited to products offered by major players, including providers of natural gas, crude oil, hazardous liquid pipelines/chemicals, and water. While the regions considered in the scope of the report include the US, Canada, UK, Germany, France, Russia, Norway, China, India, Japan, Mexico, Saudi Arabia, and Brazil.
Pipeline systems have evolved to become the primary solution for the commercial activities. The market for the pipeline security has been boosted by the demand for sustainable use of resources and the rising frequency of breaches and theft of small quantities of the product being transported.
The pipeline established for transport of commodities is estimated to span across 3.5 million km across 120 countries across the world. Oil and gas, natural gas has been estimated to be the most vulnerable to attacks, and hence, the increased spending by the oil and gas corporation to install robust security infrastructure to ensure security to the pipelines has been the primary reason for the growth of the market globally.
Key topics covered include:
Market insights, market dynamics, technology snapshot and future of pipeline security systems market.
Companies mentioned include:
ABB Ltd., Honeywell International Inc, Siemens AG, General Electric Company Schneider Electric, Optasense Ltd and ESRI Inc.
For more information about this report click here.
Read the article online at: https://www.worldpipelines.com/business-news/01062018/global-pipeline-security-systems-report-published/
You might also like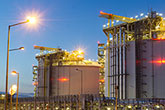 Prices pick up slightly but continue to remain deflated worldwide; prices did not respond as they did in 2022 despite disruption of gas pipeline supplies in Europe by multiple maintenance works.