---
World Pipelines' Senior Editor, Elizabeth Corner, talks to John Van Pol, founder of INGU, to discuss the company's recent article in World Pipelines.
John is an innovator and entrepreneur with a career spanning over 20 years in science and technology. While earning his PhD in Nuclear Physics, John began working on advanced sensing technologies and is now applying this expertise to the oil & gas sector.
INGU is the inline inspection partner for many of the world's leading oil and gas companies. Launched in 2016, INGU set out to improve the economics and performance of pipeline integrity programs – putting greater control in the hands of operators while eliminating downtime and conventional engineering costs.
In this spotlight session, we are reviewing INGU's recent article for World Pipelines, entitled 'Subscribing to a new ILI approach', which was written by John.
The article, which is published in the August 2021 issue of World Pipelines, describes the concept of inline inspection as a service, essentially offering an operating systems approach to pipeline integrity. The piece breaks down the real business value of data and explains how pipeline operators can best manage their operations in light of the four qualities that give data its business value.
To read INGU's article in full, simply click here and to be a regular subscriber, sign up for free here.
If you want to find out more about the services offered by INGU, visit ingu.com.
Read the article online at: https://www.worldpipelines.com/spotlight-interviews/20092021/world-pipelines-spotlight-with-ingu/
You might also like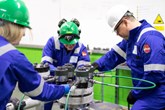 3t EnerMech named regional winner at top engineering awards for the second year in a row.