---
World Pipelines' Senior Editor, Elizabeth Corner, talks to Dr Jennifer Worthen, Product Manager for Optimisation Software, and Paul Dickerson, Global Products Lead for Pipeline Management Software, to discuss the company's recent article in World Pipelines.
In this lively spotlight session, we review Emerson's recent article for World Pipelines, entitled 'Influencing optimisation'.
The article, which was published in the October 2022 issue of World Pipelines, discusses building pipeline capacity to plan for a cleaner, optimised energy future.
Dr Jennifer Worthen is an expert in optimisation, and frequently works with other teams within Emerson to design and develop new optimisation features.
Paul Dickerson uses simulation, optimisation, and digital twin technologies and applications to significantly enhance the operational and commercial management of pipelines and terminals.
Watch the spotlight for their insight into a future where a novel blend of repurposed oil and gas pipelines and networks – as well as the development of new pipeline systems, compressor stations and storage reservoirs – support a modernised and sustainable energy landscape, with discussion of:
Priorities for the pipeline sector when it comes to adapting to the energy transition.
Supply chain considerations for the pipeline industry.
How to optimise your network.
How to use data and simulations to keep ahead of change.
To read the article in full, simply click here and to be a regular subscriber, sign up for free here.
If you want to find out more about the services offered by Emerson, visit emerson.com.
Read the article online at: https://www.worldpipelines.com/spotlight-interviews/13042023/world-pipelines-spotlight-with-emerson/
You might also like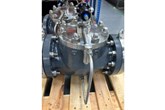 Oxford Flow expands its product range and grows market potential with new high- and low-pressure pilots.