---
World Pipelines' Senior Editor, Elizabeth Corner, talks to Jeremy Andrew Lopez, Regional Business Development Manager for Online Electronics in the Asia Pacific region, to discuss the company's recent article in World Pipelines.
Jeremy Lopez has almost 20 years of experience in the oil and gas industry and has worked in a variety of field-based roles related to pipeline and process pre-commissioning and commissioning including field technician, engineer and project manager. He has worked with international operators and EPCs in countries such as Indonesia, South Korea, Vietnam, Malaysia, and Russia.
Online Electronics Limited, part of the IK Group, has 25 years' experience in the design and manufacture of pipeline pig locating and signalling equipment as well as pipeline datalogging, testing and communication systems.
Online's head office is in Aberdeen, UK and this is supported by international offices in Dubai, Houston, and Singapore.
In this spotlight session, we will be reviewing some of the topics raised in Online Electronics' recent article for World Pipelines, entitled 'Precommissioning: ticking every box', written by Carey Aiken.
The article, published in the June 2021 issue of World Pipelines, explains how the utilisation of monitoring, testing and logging technologies at each stage of the precommissioning of a subsea pipeline can provide assurance, mitigate risks and ensure that vessel time and schedule is maintained. Online Electronics Limited has been supporting subsea pipeline operators and contractors for 25 years with technology designed to provide and collate the necessary data at each of the precommissioning stages explored in the article.
The article outlines flooding and cleaning, gauging, hydrotesting and dewatering operations and looks at ways to collect and analyse job data, in order to provide assurance that the pipeline is fit for being put into service.
To read Online Electronics' article in full, simply click here, and to be a regular subscriber, sign up for free here.
If you want to find out more about the services offered by Online Electronics, visit www.online-electronics.com
Read the latest issue of World Pipelines magazine for pipeline news, project stories, industry insight and technical articles.
World Pipelines' July 2021 issue
The July issue of World Pipelines includes a regional report on China's major oil and gas pipeline projects, as well as technical articles on surface preparation, welding, vacuum lifting, inline inspection and more. Don't miss our annual Pigging Services Directory, showcasing the latest in pigging products and services, along with pigging project updates.
Read the article online at: https://www.worldpipelines.com/spotlight-interviews/06072021/world-pipelines-spotlight-with-online-electronics/
You might also like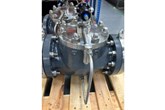 Oxford Flow expands its product range and grows market potential with new high- and low-pressure pilots.