---
World Pipelines' Senior Editor, Elizabeth Corner, talks to Steve Smith, Managing Director of International Sales for Vacuworx, to discuss the company's recent article in World Pipelines.
Since 1999, Vacuworx has been engineering and manufacturing the highest quality heavy-duty lifting equipment for the oil and gas, water and sewer, highway and heavy construction, concrete construction, landscaping and manufacturing industries.
Steve Smith is the Managing Director of International Sales for Vacuworx. Under his direction, Vacuworx won the Oklahoma Exporter of the Year in 2014, 2017 and again in 2022. He has over 41 years of experience in the lifting and material handling industry.
In this spotlight session, we are reviewing Vacuworx's recent article for World Pipelines, entitled 'Coming out on top'. The article, which was published in the November 2022 issue of World Pipelines, tackles the materials handing complexities that a pipeline owner is likely to encounter in a large diameter pipeline project. Vacuworx presents a case study, in which it provided vacuum lift pipe handling technology for the Baltic Pipe project.
To read the article in full, simply click here and to be a regular subscriber, sign up for free here.
If you want to find out more about the services offered by Vacuworx, visit vacuworx.com.
Read the article online at: https://www.worldpipelines.com/spotlight-interviews/05012023/world-pipelines-spotlight-with-vacuworx/
You might also like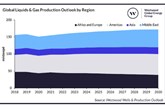 New report from Westwood finds liquids and gas production set to reach 173 million boe/d by 2030, with 9% growth on 2022 levels.