---
The NEB requires its regulated companies to have strong management systems in place, and has applied that thinking to its own internal workings. The Board's management system provides the necessary business planning, risk and data management and governance to enable the organisation to deliver the outcomes described in its Results Framework, and to correct its course as needed.
Energy information visualisations
Another way the Board is building public trust is through its focus on providing Canadians with unbiased, factual energy and pipeline information. The NEB has introduced a number of innovative information products, and has gone beyond focusing on fossil fuels and has recently published two new reports on renewable energies.
Specific examples of these products include: interactive pipeline safety map and pipeline performance dashboard; energy market snapshots; and interactive energy futures data visualisations.
Cross-border regulatory co-operation
As we move further into the 21st century, regulators in North America and around the world are facing many of the same issues. We must therefore work with our international counterparts to advance co-operation and knowledge across multiple fronts.
The public and industry must know that the NEB is committed to achieving these outcomes and rebuilding their trust in the Board. The energy markets and infrastructure are highly integrated. In 2016, US$130 billion of energy commodities were traded between Canada, the US and Mexico. The Board's relationships and co-operative efforts therefore need to reflect this degree of integration.
Safety culture
Fostering and supporting a culture of safety within the industry the NEB regulates is an emerging area for the Board, and another means by which it is rebuilding public trust. The focus on safety culture has a long history in some industries. But the oil and gas industry has been relatively slow to focus on and address safety culture.
At its core, safety culture is the attitudes, norms, values and beliefs that a particular group of people share, with respect to risk and safety. A strong safety culture scrutinises every decision it makes to ensure that risks are managed appropriately.
To this end, the NEB is developing a regulator safety oversight culture assessment tool to begin to measure and improve as a regulator. This leading-edge research is in addition to its work with other North American regulators, to identify specific indicators that can be used to gather data on companies' safety cultures.
In terms of being proactive and preventing harm, a positive safety culture is the ultimate defence. It holds the promise of moving a company well beyond compliance with standards, and facilitating systemic influence on safety performance.
As the NEB seeks to positively influence the industry's safety culture, it must also consider how its own organisational values affect its decision-making and behaviours. For this reason, it has begun efforts to understand and evaluate its own internal culture.
Regulating energy infrastructure in the 21st century presents considerable challenges. The NEB has embraced innovative approaches to demonstrate performance and excellence in all that it does. Indeed, the Board believes this is the best way forward to continue its leadership in regulating Canada's energy infrastructure and building the public's trust.
Read the article online at: https://www.worldpipelines.com/special-reports/29122017/canada-the-challenges-ahead-part-2/
You might also like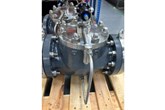 Oxford Flow expands its product range and grows market potential with new high- and low-pressure pilots.