---
On 17 March 2016, the PHMSA published one of its most ambitious documents in many years, Docket No. PHMSA-2011-0023 RIN 2137-AE72: a notice of proposed rulemaking to extensively revise pipeline safety regulations for onshore natural gas transmission and gathering pipelines.
The proposed 'mega rule' was issued five years after Congress requested that PHMSA strengthen pipeline safety rules following several incidents. The most significant of these was the 9 September 2010 gas pipeline rupture and explosion in San Bruno (California) that occurred on an older (pre-1970) pipeline.
In the process of investigating root causes, regulators looked at a number of issues, including maximum allowable operating pressure (MAOP). They discovered a number of operating deficiencies – including insufficient documentation, pipeline maintenance and MAOP verification – and concluded that hydrostatic testing the older pipeline segment would likely have identified the defective pipe leading to the failure.
The San Bruno incident is perhaps the most recognised event behind PHMSA's drive to strengthen pipeline safety regulations. But it is not the only cause. The new rulemaking also reflects a much broader movement by regulators working with industry, to address MAOP in older pipelines and close gaps in the Pipeline Safety Improvement Act of 2002.
This regulatory drive has coincided with new government measures. On 3 March 2016, the US Senate approved a bill overhauling the federal energy pipeline rules and reauthorising PHMSA to oversee pipeline safety through to 2019. Three months later, the bill received approval under President Obama. The bill is now waiting for final evaluation from the current Trump administration.
Some key impacts of the proposed gas mega rule
The proposed gas mega rule is intended to revise and strengthen federal pipeline safety regulations in a number of areas.
Regulating pipelines built before 1970
Under a 'grandfather' clause, operators have been able to define a pipeline segment's MAOP as the highest actual operating pressure in the five years before 1970. This is in contrast to pipelines built after 1970, where operators must define MAOP through hydrostatic pressure tests after construction and after careful consideration of design pressure elements.
Under the new mega rule, PHMSA seeks to regulate pipelines built before 1970 and to eliminate the grandfather clause for MAOP. The proposed rule will add requirements to improve historical records, verify MAOP and carry out more testing.
Expanding requirements for pipeline data
In the case of the San Bruno incident, investigators discovered that the operator did not have sufficient historical materials records for the defective pipeline segment involved in the accident. They also found the pipe to be inferior and much lower strength than originally anticipated. Taking this into consideration, PHMSA's new rule will mandate that pipeline operators create more historical records of pipeline materials and use these records to manage operating risk. Operators of transmission pipelines must acquire and retain information such as class location determinations, steel pipe manufacturing and welding procedures, as well as pipe design and pipeline components.
Increasing integrity management requirements in currently regulated areas
The mega rule also adds new integrity management requirements to currently regulated areas of the transmission pipeline system. These include modifying repair criteria for pipeline segments in high consequence areas (HCAs) – populated areas, drinking water sources and unusually sensitive ecological areas where a pipeline release could have the most adverse consequences.
Adding moderate consequence areas
Under the mega rule, regulators seek to expand integrity management requirements to pipelines that could affect moderate consequence areas (MCAs) – onshore areas that include five or more buildings intended for human occupancy, an occupied site or a major road crossing within the potential impact radius. Companies will be required to determine potential impacts and the potential impact radius in the event of a pipeline failure in these newly defined areas.
Expanding regulation of gas gathering lines
The mega rule will also expand integrity regulations to gathering pipelines. Once the gathering pipeline regulations are proposed and passed, they will be comparable to the regulation of transmission lines. Current PHMSA transmission line pipeline integrity regulations require that transmission pipelines be designed and constructed to ensure the passage of instrum
Part 2 coming soon!
Read the article online at: https://www.worldpipelines.com/special-reports/27122017/preparing-for-waves-of-regulatory-change-part-1/
You might also like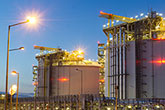 Prices pick up slightly but continue to remain deflated worldwide; prices did not respond as they did in 2022 despite disruption of gas pipeline supplies in Europe by multiple maintenance works.