---
Richard Norsworthy of Lone Star Corrosion Services has provided the following outlook on training in the pipeline industry.
We have failed many good pipeline employees because they did not conform to the traditional methods of training and evaluation used by most industry certifying organisations. For too many years we have expected these individuals to simply make a certain score, call it acceptable, certify or fail them and say everything is good. As an industry, we need to discuss why this is not always the best solution for training and certifying those who are expected to perform the daily tasks of safely operating pipelines.
Frank E. Rizzo and Associates (FERA) has developed a training programme for all categories of pipeline compliance. This training provides an opportunity for each student to successfully complete the course and teach them to complete a task correctly even when abnormal operating conditions exist. This new Operator Qualification (OQ) and related subject training concept uses distance learning for an enjoyable, less stressful, and cost-effective method of learning. FERA's other training includes continuing training, responsible person training, and emergency training. Live, experienced, and well-known instructors are used in this training to encourage extensive interactions between instructors and students.
One-size-fits-all
Without a vision to promote training methods that do not leave good employees behind, training and certification organisations will continue to miss the 'grade'. Most of the present training fits everyone into the same mould. This method leaves out some experienced employees, causes much unneeded stress and retards learning for many. After teaching several hundred 'industry standard' courses and seeing many students struggle because of the unneeded pressure caused by trying to teach too much in a forced time frame, I know it is time to change these methods.
When students fresh out of college can come into these traditional classes and pass (because they have good math and computer skills) even though they have very little practical experience, but the person with 25 years of actual field experience fails, there is something wrong. We must do better for our industry.
Learning takes many forms
When instructors are told by organisations there is only one way to teach or you must teach it as written in the book, students lose. When there are a variety of talents, education levels and experiences, instructors 'must' be allowed to teach using all available methods and techniques to relate the information needed for the student to learn. By forcing students into a set time frame for learning, we have also forced much unneeded stress and inhibited 'natural' learning.
The courses FERA has developed allow for the instructors and students to freely discuss each topic, explore various ways of solving the same problem and learn how others have solved similar problems by encouraged 'war' stories. Solving the problem correctly is what is critical, not that we all solve it the same way. This training meets the primary goal of each lesson: to be able to perform the associated task correctly under all anticipated conditions and at all times.
Removing the barriers of time
FERA training provides many different opportunities to learning without the set restrictions of 'formal' class settings and 'time limited' learning. Most traditional industry courses are restricted to a certain number of hours for training. If you do not get it then, too bad – you are not smart enough. These courses allow the student to learn at their pace, on their time schedule and without inundating them with unneeded information.
Learning without failure
Some industry 'standard' courses seem more interested in maintaining a certain failing percentage, than in actual learning. They work with 'cut-scores' and adjust the pass/fail rate according to some theoretical value.
FERA uses many different formats of evaluation to identify deficiencies in the student's knowledge, skills and abilities regarding the subject task. These deficiencies are corrected during the training, so every student has the opportunity to pass the final evaluation. The final exam detects further deficiencies regarding the subject training. Students are given multiple opportunities to successfully pass exams through direct contact with instructors that explain what they missed and why, self-study, and continuous training.
Continuous training
Retention of what one has learned is critical. This programme is developed so that a student is provided with continuous training opportunities and updated material to help them retain and improve knowledge and skills. This a relatively simple process that has been ignored by most. If work responsibilities, illness or other issues prevents the student from attending actual presentations, lectures can be viewed at the leisure of the student since each is recorded.
Training levels offered
Operator qualification – Train technicians to perform covered tasks.
Regulatory compliance – Train managers to develop and execute regulatory compliance programmes.
Integrity management – Train technicians and engineers to create and execute an integrity management plan.
Upper management – To provide overall knowledge to support making budgetary decisions.
Emergencies – Train engineers and technicians to create and execute an emergency plan.
Standards – Train engineers and technicians to understand and execute consensus standards (e.g. Remaining Strength, ECDA, Internal Corrosion Monitoring).
Associate programme
FERA will work with an operator to assemble a custom course consisting of lessons of interest to their employees. This provides specific training that addresses their operations and maintenance manuals and does not burden the employees or company with unneeded, costly training. This also allows development of training for different countries that may not have the same regulatory requirements as the US. Each programme can be developed to meet the needs of that country or company's needs.
Experienced instructors
FERA uses only experienced instructors who have many years of pipeline industry experience. When added together, the main instructors have over 200 years of pipeline and corrosion control experience, including many years of actual instructions. These instructors are engineers and or NACE Certified Corrosion and CP Specialists. FERA has some who specialise in operation and maintenance, regulatory compliance, coatings used with CP and actual field experiences.
Conclusion
Time has come for our industry to go beyond the traditional methods of training and certifying those who are responsible for many of the tasks required. This programme provides many ways for a student to learn through using distance training with well known, experienced instructors as a back-up for any explanation or questions. The goal is to provide training that allows students multiple ways and time to successfully complete the lesson and become certified.
This is a flexible training method that is continuously improved. Distant learning saves travel expenses, time away from home and work. The lessons focus on specific topics needed to complete the task by eliminating unneeded information. Students and those who pay for them to attend the training no longer need to be concerned about forced learning in a set time frame and evaluations that are more concerned about cut scores than learning.
Richard Norsworthy, Lone Star Corrosion Services, US.
Read the article online at: https://www.worldpipelines.com/special-reports/26122019/lesson-in-training/
You might also like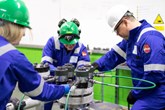 3t EnerMech named regional winner at top engineering awards for the second year in a row.