---
In recent years, drilling conditions have become tougher. According to an analysis by Interpipe, the quantity of horizontal wells in the US increased from 57% of the total number of wells in 2011 to 88% in 2019. Horizontal drilling requires more complicated OCTG products. Design of the joints in such products must ensure the string's sealability and withstand high pressure.
To meet the demands of the market, Interpipe has developed a proprietary line of premium connections for severe drilling conditions – UPJ. As a premium class connection in the UPJ product line, the UPJ-M coupling joint has a high gas-tightness level and was developed and certified in 2017.
As a response to the evolving complexities of drilling conditions, a second connection was introduced by Interpipe in 2019. The new flush joint UPJ-F product took approximately a year to design, develop, test and certify according to the requirements of the ISO 13679 CAL IV level.
Flush joints: a response to OD clearance restrictions
Flush joints are one of the most promising products in the OCTG market. The thread is cut on the inner side of the body of the pipe, with the absence of coupling enabling the pipes to be used much more easily in small diameter holes, and especially in deviated and horizontal wells. The UPJ-F casing may be used as a drilling liner to isolate unpredicted zones while drilling, as well as a production liner or a sidetrack production casing where OD clearance plays a significant role.
In addition, the UPJ-F connection serves well when a slim hole well profile is used. When using such a connection, a reduced bit diameter can be used, leading to well construction cost reduction. A metal-to-metal seal mechanism makes the UPJ-F connection applicable for use in gas and gas-condensate wells even when they have an S-type or horizontal well profile.
Safety in focus: importance of flush joint sealability
While flush connections have many operational benefits, it is important to follow the strict requirements that ensure the effective performance of the joints. The safe running of complex wells can only be ensured by the use of flush joints that are capable of withstanding tension and internal and external pressure, prevent 'jump-out' and allow bends to be created where necessary.
Interpipe strives to meet the highest industry standards on the connections for operations in tough drilling conditions. For the UPJ-F connection to undergo certification in accordance with the ISO 13679 CAL IV level, test items of casing with UPJ-F joints were sent from the production site in Ukraine to an independent laboratory in Germany. The test results proved that the connection guarantees gas-tightness and the safety of operations even under high pressure.
Boris Lomakin, Premium Connection Department Director, Technical Sales Director at Interpipe said, "The UPJ-F gas-tight premium connection has a unique design, with a double metal-to-metal seal, 'hook-thread profile' and dope pocket. With its flush design the UPJ-F simplifies run-in-hole operations especially in deviated and horizontal wells and in high 'dog-leg' sections, due to the lack of coupling and anchoring effect."
Read the article online at: https://www.worldpipelines.com/special-reports/25102019/as-drilling-conditions-change-so-must-pipes/
You might also like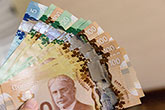 Trans Mountain Corp applies to regulators for tolls on its long-delayed 590 000 bpd pipeline expansion.