---
Frank Lennon, Cathx Ocean, Ireland, discusses advances in subsea imaging technology that are designed to optimise the underwater survey process for pipeline inspections.
Traditional subsea pipeline surveys are slow and expensive. Generally, an ROV (remotely operated vehicle) would undertake spot dives on suspected areas where anomalies may be found along the pipeline and video footage is acquired. This is a time-consuming and inefficient process, as the ROV needs to be stopped regularly due to poor visibility and insufficient image quality to be able to find anomalies. This requires more offshore personnel for human intervention, resulting in a slow inspection process and as a side effect high CO2 emissions due to long surveys.
Cathx Ocean is a global innovator in subsea imaging and measurement. Their technology delivers leading edge data deliverables, and reduced survey times, offshore personnel, and inspection costs. Cathx Ocean's innovative technology provides higher quality UHD (ultra-high definition) stills and laser imaging systems to oil and gas inspection companies.
The challenges
High cost of conventional surveys
Conventional subsea surveys are an expensive process. This is due to the amount of time spent carrying out the surveys and the amount of offshore personnel required.
Slow visual inspection times and stoppages
In traditional surveys, an ROV normally traverses over a pipeline capturing video. It would typically have to travel at 0.5 knots, as travelling any faster would introduce motion blur into the video footage. The ROV would stop at many locations due to poor visibility or to zoom in to inspect the pipeline in greater detail. Generally, these surveys would involve 30 to 45 day non-stop surveys to complete. These long survey times result in high CO2 emissions, which can be harmful to the environment.
Offshore inspection personnel
Visual inspection surveys require inspection personnel offshore to identify potential anomalies. This puts responsibility on the inspector, and results in slow surveys to ensure nothing is missed. This all comes at substantial cost to the surveying company.
Image quality
Due to poor underwater conditions, conventional subsea imaging systems did not previously provide sufficient quality images while the ROV was moving. Reduced image quality resulted in ROVs having to be stopped regularly to capture better inspection data.
Data analysis
Subsea inspections collect considerable amounts of data. More efficient methods were required to view and analyse this data.
Read the article online at: https://www.worldpipelines.com/special-reports/21072020/a-subsea-revolution/
You might also like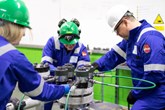 3t EnerMech named regional winner at top engineering awards for the second year in a row.