---
Azeez Mohammed, President & CEO of GE's Power Conversion business, provides an opinion piece that introduces GE's philosophy when it comes to electric rotating machinery maintenance and why it pays off to take a proactive approach for machinery inspection.
Electricity is powering modern life in more ways than ever before. Feeding on the energy that electric generators pour into the power grid, electric motors move the wheels of worldwide heavy industry. They are now even taking the place of internal combustion engines in cars, ships and aircraft. And, when it comes to investing in large-scale electric rotating machinery (RM), businesses need to think beyond the initial capital to unlock operational efficiency gains.
Currently, electric motors consume more than 40% of global electricity. That's twice as much as the second largest user, lighting. What's more, the International Energy Agency's World Energy Outlook reports that industrial electric motor systems are expected to increase their share of power demand significantly between now and 2040.
These figures indicate that an increasing number of industries are predicted to invest in electric motor systems in the coming decades. And, while buying the right equipment in the first place is vital, it's only one part of the story.
This is because the CAPEX for an industrial RM may be significant but will be surpassed by OPEX in the long term. In fact, the initial cost of a typical motor is just a tiny portion of the total cost of ownership, which spans widely over the lifecycle of the machine. So, when deploying a new motor, it's crucial to consider all factors involved with its operational cost – including energy efficiency, reliability, system reliance and environmental impact, expected lifecycle costs and ease of maintenance.
From setting an optimised maintenance schedule to providing the right level of parts, labour and expertise to get everything back up and running quickly, proper maintenance is key to getting the most value out of vital assets.
While common unplanned outage causes – such as damaged bearings – may be relatively easy to fix on site, it's far better to avoid the unplanned outage in the first place as any small deficiency in a RM's operations can lead to costly downtime. For example, in the case of industries such as steelmaking, this can run to in excess of US$30 million in lost revenue a year per single hot strip mill.
Prevention is better than cure
As it's vital to focus on detecting and preventing faults before they happen, maintenance shouldn't only take place after a breakdown that results in downtime, it should also be used to prevent unplanned downtime happening in the first place. Investing in a maintenance service built on proactive detection and prevention – rather than reactive recovery – will significantly reduce the excessive costs associated with unplanned outages.
Current calendar-based preventive maintenance approach may serve its purpose to maintain the machinery, if done frequently enough, but it may also entail excessive maintenance and induce unnecessary costs. Carrying out non-invasive inspections of equipment, reviewing maintenance plans that are currently in place and the environment in which equipment operates can give companies a strong foundation of knowledge on which to build a smarter, preventative maintenance plan.
Creating a tailored 'health plan'
Maintenance represents a significant cost to a business – so the more targeted it can be, the better. Digital is the next service evolution that will drive the shift from preventative maintenance to predictive maintenance focused only on components that show a degradation in performance – signs that could indicate a future failure.
However, there's still some way to go before digital can fully unleash its potential. Today, majority components of a RM still need to be inspected manually – something which must be carried out diligently to keep crucial equipment in good working order throughout its lifecycle.
To ensure a recommended maintenance plan is tailored to a company's needs, GE utilises an analysis of any major events in the lifecycle of their RM, along with its operational history and any maintenance records to provide a custom maintenance plan. The resulting plan would comprise the interval between inspections and the type of work to be carried out at each one. This would all be geared towards the equipment's operating environment and how critical it is to operations. Equipment operating in a heavy industrial area would likely require more frequent inspections.
The type of work scheduled for such inspections ranges from minor interventions to carry out electrical testing, to more extensive mechanical inspections for in-depth evaluations.
As an electric expert, GE's Power Conversion business has the in-depth design and engineering knowledge of electric machinery that makes us well-placed to serve both GE and non-GE RMs. Globally, GE has a huge installed base of motors and generators, continuing its quest to bringing efficiency and reliability across the energy spectrum for a breadth of industries, from oil and gas, marine and renewables to heavy industry.
GE's design work has included developing and testing one of the world's largest 80 MW induction motors to be used for LNG compression, leapfrogging from the 22 MW motor – an industry that depends on having a stable, reliable power source.
And while local service suppliers may have their place in handling urgent, unplanned outages, GE's proactive and expert approach to inspection means that downtime will be planned and minimised, giving customer the best value out of their asset.
Read the article online at: https://www.worldpipelines.com/special-reports/19092018/ges-philosophy-on-rotating-machinery-maintenance/
You might also like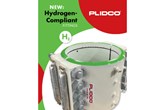 In response to the emerging transition toward hydrogen, PLIDCO has introduced a new range of products for use with hydrogen pipelines.