---
Planned investments across Africa totalling US$245 billion for gas pipelines, LNG terminals, and power plants represent an enormous stranded asset risk, as much of this gas is intended not for domestic consumption but rather to correct Europe's short-term energy crisis resulting from Russia's invasion of Ukraine, finds a new report from Global Energy Monitor.
Key points:
Much of the continent's gas pipeline buildout has yet to secure investment. The planned gas pipeline build up in Africa would require US$89 billion in investment. Only US$4 billion is attributed to projects under construction, while US$85 billion is attributed to proposed projects.
While Africa has an estimated 23 932 km of gas pipelines in development, most projects remain in the proposal stage, with only 1872 km currently under construction. South Africa and Mozambique lead in proposed gas pipelines, with 4792 km and 4352 km, respectively.
Overall the Africa Gas Tracker identifies 65 GW of gas plants in development, 75 million tpy LNG terminal capacity in development and 22 600 km of gas pipelines in development.
Christine Juta, Project Manager for the Africa Gas Tracker, said, "Investments in gas pipelines and LNG export projects compete with Africa's need to achieve universal access to clean energy and meet domestic demand for gas. Without long-term financing and off-take agreements, African countries risk banking on what could well be a short-lived appetite for gas."
Julie Joly, Oil and Gas Program Director, said, "The EU's appetite for more LNG will be short-lived. By the time any terminal is built, export projects will be obsolete as the world moves on to renewable energy. At that point, new and existing pipelines in Africa would not be able to supply energy for use domestically without building even more infrastructure to distribute and burn the gas. The cost of that additional investment and the externalities associated with it, if compared to the cost of developing clean, cheap renewable energy, will be untenable, leaving the pipelines stranded as well."
Read the article online at: https://www.worldpipelines.com/special-reports/13122022/scramble-for-africa-gas-poses-stranded-asset-risk/
You might also like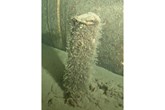 Denmark invites Gazprom to help salvage unidentified object found close to only remaining intact gas pipeline under Baltic Sea.