---
Jeff Curnick, Platipus Anchors Limited, UK, explains the application of percussion driven earth anchors as a solution for pipeline buoyancy in a range of challenging locations.
Buoyancy has always been an issue when a pipeline is constructed within a saturated environment, such as rivers, floodplains, or areas with a high ground water table (Figure 4). Over the last century, pipeline owners, designers and contractors have utilised various methods to counteract floatation, starting with simple pipeline weighting that consisted of two cast iron halves bolted together around the pipe. This was later replaced by concrete set-on weights and geotextile saddle bags. All these methods provided their own challenges, particularly with the transportation of heavy materials to remote locations and the time and resources it took to implement, especially when today's modern equipment was not available. It was not until the 1980s that significant progress was made in pipeline buoyancy control technology with the introduction of ground anchors as an economical and effective alternative to traditional methods.

Figure 1 – Platipus anchors providing slope stabilisation on a project in Zawtika, Myanmar.
An earth anchoring system
Platipus® has over 35 years of experience in the design, manufacture and supply of Percussion Driven Earth Anchors (PDEA®) for a wide variety of market sectors. The PDEA is a modern and versatile device that can be rapidly deployed in most displaceable ground conditions. It offers a lightweight, corrosion-resistant anchor that can be driven from ground level using conventional equipment. It is designed to create minimal disturbance in the soil during installation, can be stressed to an exact holding capacity, and made fully operational immediately. As a completely dry system it also has minimal environmental impact.
Pipeline anchor system specifications can vary depending on the diameter of the pipe, length of each pipe section, local soil conditions (including ground water table), structural integrity of the pipe, if the pipe is being installed in fresh or saline water, and the reinstatement of backfill material. Typically, the anchor head is manufactured from aluminium alloy or spheroidal graphite cast iron and is connected to a webbing strap. The system is then put into service by using a buckle and tensioning device. Anchor system sets are spaced along the pipeline, at calculated distances, through areas that require anti-buoyancy measures or stabilisation from other external forces. The installation of a typical pipeline anchoring system can be seen in the animation in Figure 2.

Figure 2 – Installation guide of a typical Platipus pipeline anchoring system.
Stress distribution and bearing capacity
The stress distribution in front of a loaded anchor can be modelled using traditional foundation theory. The ultimate performance of an anchor within the soil is defined by the load at which the stress concentration immediately in front of the anchor exceeds the bearing capacity of the soil. Factors that will affect the ultimate performance of the anchor include shear angle/undrained shear strength of the soil, size of the anchor, depth of installation, and submerged conditions.
PDEAs perform well in granular soils, displaying short load lock and extension characteristics, a broad frustum of soil immediately in front of the anchor, and extremely high loads (Figure 3).

Figure 3 – Typical frustum of soil in granular soil.
Stiff cohesive soils, such as boulder clays, can also give impressive results. However, weaker cohesive soils, such as soft alluvial clays, can result in longer load lock and extension distances and a smaller frustum of soil in front of the anchor. Consequently, these conditions require a larger size of anchor and, if possible, a deeper driven depth to achieve design loads.
Advantages of the anchoring system
Standard 2 t (20 kN) and 10 t (100 kN) pipe kits are suitable for small and large diameter pipelines.
High-performance anchors are designed to provide significant cost savings over traditional concrete set-on and saddle bag weights.
Anchor installation can be completed before or after the pipe is laid using standard on-site equipment.
Each anchor system can be proof tested and verified immediately upon installation.
Application-designed webbing can provide fast tensioning with no damage to the pipe or corrosion coating.
Flexible anchor selection for varying soil conditions.
No cathodic protection is required.
Technical guidance and support at all stages of the design and installation process.
Low mobilisation costs and minimal environmental impact.
Lightweight products and installation equipment make them ideal for extreme or challenging locations.
Platipus pipeline anchor systems have been used on challenging projects in extreme locations all over the world, as outlined in the following case studies.

Figure 4 – Installed pipeline in submerged conditions anchored by the Platipus systems.
Zawtika onshore pipeline project II – Myanmar
This 6 km long pipeline project, completed in 2014, was characterised by complex ground and terrain conditions such as tropical forests on sandy soil and steep slopes that needed to be crossed. After the successful completion, a number of the steep-sided slopes were identified as being potentially unstable and needed to be remedied to prevent any future damage to the now operational pipeline.
By this time there was extremely limited road access to the site and no machinery left in the remote area (Figure 1). Any proposed solution had to be suitable for installation by hand-held equipment only. While not a buoyancy control application, Platipus Anchors can cover a wide range of applications, with erosion control and slope stability being an industry standard.
Armed with Platipus S8 anchors weighing only a few kilograms each, portable hydraulic hammers and 100 kN hydraulic stressing equipment, the installation teams were able to get anchors into position on the slopes for installation to the specified 4 m depth. Laid out in a diamond grid pattern and installed beyond the theoretical failure plane identified in the slope analyses design, each anchor was proof tested to an exact holding capacity of 40 kN – providing global stability to each section of slope where required. Anchor installation for a typical slope stabilisation application is illustrated in Figure 5.
Cirebon 2 – Indonesia
The 1000 MW coal power plant, being constructed in the coastal region of northern West Java, Indonesia with poor soil and potential flooded working conditions, posed several challenges for the installation of the various pipework required.
The most challenging of these was the 4000 mm (157 in.) diameter circulating water pipes which had the potential to sink or float due to the soft clay soil and extremely high ground water levels.

Figure 5 – Anchor installation guide for a typical slope stabilisation application.
Part of the designed solution was to implement a concrete base placed on piles to provide foundation support to the large diameter pipes. Platipus Anchors was then tasked with providing a system to prevent the uplift in combination with the foundation (Figure 6).

Figure 6 – Platipus system to prevent uplift used in combination with foundation on the Cirebon 2 project, Indonesia.
The solution was a large 75 mm wide webbing strap, with a 150 kN breaking load, placed over the pipe at set spacings and secured to pre-cast eyebolts using full stainless steel accessories for added corrosion protection. With only basic tensioning tooling required, this solution provided the installation team with a simple means of securing the pipeline without the need for any additional machinery on-site.
Summary
As pipeline infrastructure continues to expand globally, often through challenging and remote terrain, the need for lightweight, effective and economical solutions to counteract pipeline buoyancy and support other associated applications is vital.
The PDEA system provided by Platipus has been designed to be a beneficial solution for pipeline stakeholders needing to overcome the aforementioned challenges and achieve their objectives.
This article was published in the World Pipelines Extreme 2020 supplement. Click here to view the full issue online.
Read the article online at: https://www.worldpipelines.com/special-reports/13082020/anchors-make-buoyancy-a-thing-of-the-past/
You might also like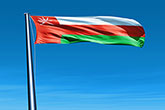 Oman's OQ Gas Networks announces price for gas pipeline business IPO.