---
GlobalData's latest report finds a total of 17 planned and announced hydrogen pipelines are expected to come online during the outlook period 2022 - 2026. Of these, four represent planned pipelines with identified development plans, while the remaining 13 are early-stage announced pipelines that are undergoing conceptual studies and are expected to get development approvals.
This report allows you to:
Assess your competitor's planned and announced pipelines, proposed length, and capital expenditure.
Identify growth segments and opportunities in the global hydrogen pipelines industry.
Facilitate decision-making on the basis of strong planned and announced hydrogen pipelines data.
Develop business strategies with the help of specific insights about planned and announced hydrogen pipelines in the world.
If you would like to view a sample from GlobalData's report 'Hydrogen Pipelines Length and Capital Expenditure (CapEx) Forecast by Region, Countries and Companies including details of New Build and Expansion (Planned and Announced) Projects, 2022-2026' you can do so by clicking here.
Read the article online at: https://www.worldpipelines.com/special-reports/10082022/hydrogen-pipelines-length-and-capital-expenditure-forecast/
You might also like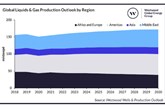 New report from Westwood finds liquids and gas production set to reach 173 million boe/d by 2030, with 9% growth on 2022 levels.