NEW PODCAST EPISODE: How downstream facilities can begin their 'digital transformation' journey
Published by Elizabeth Corner, Senior Editor
World Pipelines,
---
The idea of beginning a 'digital transformation' can appear overwhelming to facilities that are focused on their day-to-day operations.
In this episode, Callum O'Reilly speaks to Akshat Sharma, Monitoring & Controls Manager at ITT Inc., about how oil refineries and other downstream facilities can begin their digital transformation journeys.
Akshat outlines what a digital transformation journey looks like and why it is so important for facilities in the downstream sector.
Listen to the new episode here.
Sponsoring this episode of the Palladian Energy Podcast is Global Hydrogen Review, a new publication dedicated to the entire spectrum of hydrogen production and its applications worldwide.
Sign up for a free subscription to Global Hydrogen Review.
Listen to a recap of the series so far here.
Learn more about our magazines.
Read the article online at: https://www.worldpipelines.com/special-reports/10052022/new-podcast-episode-how-downstream-facilities-can-begin-their-digital-transformation-journey/
You might also like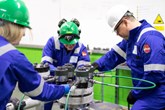 3t EnerMech named regional winner at top engineering awards for the second year in a row.