---
Commentary from Duncan Greatwood, CEO of Xage Security:
The National Cybersecurity Strategy released this week is broad and high-level, but nonetheless embodies and foreshadows a number of major advancements.
The first pillar, focused on defending critical infrastructure, is closely aligned with the cybersecurity performance goals recently released by the Cybersecurity and Infrastructure Security Agency (CISA). The Biden administration's strategy will enable CISA to turn these requirements into enforceable regulations, spurring real cybersecurity improvements. Equally important, new innovations in cybersecurity are making it practical for critical infrastructure operators to comply with the upcoming requirements without requiring 'rip and replace' of existing equipment and networks – so operators can overlay new cyber protection in a timely fashion.
Another aspect of this first pillar focuses on defending and modernising federal networks and updating the federal incident response policy. Federal agencies are embracing zero trust with defence-in-depth to ensure there are preventative cyber measures in place to ensure the continuity of key systems and critical infrastructure.
One of the other key pillars focuses on shaping market forces to drive security and resilience. More granularly, it doubles down on ensuring that federal grant programmes promote investments in new infrastructure that are secure and resilient. This is an unprecedented action and a great opportunity for mission-critical sectors to prioritise building cyber resilient infrastructure. These federal grant programmes will help modernise existing infrastructure that's currently vulnerable to attacks.
Helping critical infrastructure agencies turn directives into effective actions is a responsibility shared by operators, the government and the cyber industry. Cybersecurity companies will need to create practical tools that enable preventative infrastructure cybersecurity.
Read the article online at: https://www.worldpipelines.com/special-reports/10032023/digging-deeper-into-bidens-policy/
You might also like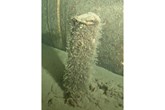 Denmark invites Gazprom to help salvage unidentified object found close to only remaining intact gas pipeline under Baltic Sea.