Special reports - 09 July 2020
The July issue of World Pipelines includes a regional report on China and technical articles on repair and rehabilitation.
Dr. Hooman Peimani assesses the impact of the global decrease in energy demand on China's midstream sector.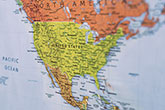 Tom Sanzillo and Suzanne Mattei, IEEFA, discuss the calling off of three major North American pipeline projects, and whether there is more on the horizon.