Meet the versatile Vermeer D220X500 S3 horizontal directional drill
Published by Lauren Fox, Digital Administrator
World Pipelines,
---
Customisable solution for large-diameter trenchless installation projects
A fluctuating oil and gas pipeline construction industry has many contractors considering diversifying the sectors they serve. Today's industry is seeing tremendous growth opportunities in hardening electrical transmission lines; installing renewable energies; and replacing/expanding water, sewer and natural gas and carbon capture infrastructure. Capturing new opportunities in these developing markets requires versatile equipment, regardless of where the project is and the type of product being installed. The Vermeer D220x500 S3 horizontal directional drill (HDD) is the machine to help you make the transition into new markets and excel.
With the D220x500 S3, you get to choose your setup based on your needs.
Working in a city where space is tight? The D220x500 S3 is the drill for you.
Where long bore shots are preferred, again, the D220x500 S3 can get it done.
With 240 400 lb (1069.4 kN) of thrust/pullback, this drill can be configured for your specific needs — from the operator station and rod handling configuration to mudflow management and rotary torque capacity. You decide what you need.
Let's look at some of the different ways the D220x500 S3 can be configured.
Choose your operator experience
When it comes to large drills, choosing between an onboard cab or a stand-alone drilling cabin can have a direct impact on efficiency, mobility, and footprint of the drill package.
The onboard cab is ideal for shorter drill shots and when moving the drill frequently. Plus, configuring your D220x500 S3 with an onboard cab helps reduce the number of loads you'll have to make when transporting your rig from a job.
For longer bores or working in adverse ground conditions, you might want to choose a stand-alone drilling cabin. It requires more resources to set up, but it pays off in operator comfort. With the D220x500 S3 stand-alone drill cabin, the operator is isolated from the machine. Plus, there is plenty of room for a steering hand to set up shop right inside the climate-controlled cabin.
Choose a pipe handling setup
The D220x500 S3 can be configured with a hydraulic-powered rod stager or a full-length catwalk to handle the drill pipe.
With a rod stager, you can pre-stage multiple pieces of drill pipe at a time, which helps free up a crew member and excavator to perform other work throughout the day. A scissor lift platform provides an area for crew members to perform the wireline connection. The D220x500 S3 can be configured with a rod stager, regardless of the drill pipe length you choose.
If you're looking for more of that traditional big rig oil-and-gas HDD setup, Vermeer also offers a full-length catwalk with the D220x500 S3, which provides an open work area when handling drill pipe and performing wireline connections.
Choose how you want to pump mud
The D220x500 S3 can be built with or without an onboard mud pump. You should consider having yours built with an onboard mud pump if you're doing large-diameter work in urban areas and/or going to be moving the drill frequently. Less equipment on the job helps reduce the size of the jobsite, simplifies setup and breakdown of a site, and reduces the number of loads of equipment that need to be transported.
If you want to have more control over your jobsite and how everything is set up or want to use a different size mud pump than Vermeer offers, hook up your own. It's up to you.
Of course, you also have the option of choosing both. Many contractors who have run the D220x500 S3 say they like having the onboard unit and the choice of connecting a separate mud pump to the drill. Why? The onboard pump provides that self-contained, small footprint setup and is more economical for the shorter, smaller diameter bores. The stand-alone pump can be used when higher fluid volumes are required, eliminating the need to operate the onboard pump at full output to maximize the life of pump consumables.
Choose torque and spindle speed
When you're spec'ing out drills, rotary torque is likely a spec you pay close attention to. The Vermeer D220x500 S3 can produce 52 600 ft-lb (71 316.1 Nm) of torque. Impressive for sure, but, depending on your operating conditions and tooling selection, you might want higher RPM rather than torque. Well, the D220x500 S3 is also capable of producing spindle speeds up to 97 RPM.
So, when you're working in adverse grounds or cutting larger-diameter holes and need torque, the D220x500 S3 delivers. If the next job is in sticky clays, or you're using a certain type of tooling that is more efficient at higher spindle speeds, the same machine can deliver in those conditions, too.
Choose an onboard crane
Many rigs can be outfitted with an optional crane. Adding a crane to your D220x500 S3 can help reduce the footprint of your job and the manpower needed because it eliminates the need for a remote tooling/pipe loading machine and operator.
Choose peace of mind
Adding a large drill to your fleet is a significant investment, and a program like the Vermeer Confidence Plus® asset protection program is an excellent way to help protect it. You can add the Vermeer Confidence Plus program to your initial purchase finance package or anytime within the standard one year warranty period. The Vermeer Confidence Plus program lets you finance regular preventive maintenance expenses for your D220x500 S3. It's convenient, and Vermeer dealer-certified technicians perform all the work. And with Vermeer dealers located all over the globe, support is just a phone call or text message away.
As you can see, with the Vermeer D220x500 S3, you get to choose a suitable configuration for your specific needs. This one drill is capable of doing so much.
Of course, you don't have to make all the choices yourself. Your local Vermeer dealer is just a phone call away, and their team of experts can help you decide what you need.
For more information about the Vermeer D220x500 S3 or to learn more about all the large-diameter HDD equipment solutions Vermeer has to offer, give your Vermeer dealer a call today.

www.vermeer.com
Read the article online at: https://www.worldpipelines.com/special-reports/06042022/meet-the-versatile-vermeer-d220x500-s3-horizontal-directional-drill/
You might also like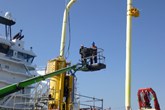 AIS awarded another custom coating project offshore Brazil.