---
NACE was established in 1943 by 11 corrosion engineers from the pipeline industry as the "National Association of Corrosion Engineers." Since then, NACE International has become the global leader in developing corrosion prevention and control standards and reports, among many other activities designed to equip society to protect people, assets, and the environment from the adverse effects of corrosion.
NACE standards are the backbone of the association's growth and worldwide impact on best corrosion control practices and compliance with regulations. The first NACE committee to begin governing the development of standards was established in 1944, named the Corrosion Control Committee. This was later renamed the Technical Practices Committee (TPC) in 1947.1 The TPC was active for decades, overseeing multiple committees made up of hundreds of volunteer members who have developed standards and reports in all industries and technologies affected by corrosion.
In 2001, a new structure was implemented and the TPC was renamed the Technical Coordination Committee (TCC). Under this system, the existing hierarchical format was changed into a matrix format, with the TCC overseeing Specific Technology Groups (STGs) based on industries and their relevance to various technologies. The STGs supervise task groups (TGs) that are essential to the development of standards and reports. Various TGs have been added over the years to respond to evolving developments in the corrosion industry. Over the past several years, Section Technology Advisory Groups (STAGs) have also been formed internationally for convenient participation in the TCC structure to address regional corrosion control needs. Other activities, such as Technical Information Exchanges (TIEs) and symposia, fall under Technology Exchange Groups (TEGs), a parallel structure that is also part of the TCC matrix.
In an important historical development, NACE was accredited by the American National Standards Institute (ANSI)—the US national standards body—in 2002. ANSI oversees the creation, promulgation, and use of thousands of norms and guidelines that directly impact businesses in nearly every sector, including the corrosion industry. NACE's new and existing standards remain compliant with the organisation's requirements. NACE technical committees also work on joint standards with other standards-developing organisations on corrosion issues, further disseminating valuable resources for corrosion professionals to conduct their work. Many NACE standards have been and continue to be translated into other languages.
"Approximately 10% of our 36,000+ NACE members are actively writing and updating about 250 new and existing standards and reports throughout the year," says Edward Manns, NACE Director, Standards and Strategic Technical Initiatives. "This work is done by in-person task group meetings held at annual events like CORROSION and Corrosion Technology Week, as well as the continuous use of virtual meetings."
Today, as in the past, NACE standards ensure the effective use, longevity, and safety of everything from cathodic protection and protective coatings to inhibitors, materials, and corrosion management systems in every corrosion technology and industry classification around the world.
"The dedicated work of our technical committees over the years, with support from NACE Technical Activities staff, have not only resulted in hundreds of standards and reports, but have enhanced NACE's reputation as the worldwide corrosion authority," says Technical and Research Activities Committee Chair Cris Conner. "These efforts will continue to expand and improve the way corrosion professionals and governments protect the global infrastructure well into the future."
Reference
1. W.B. Holtsbaum, P. Crevolin, E. Bowman, The History of NACE International—The Worldwide Corrosion Authority, 1943-2018, 75 Years of Progress (Houston, TX: NACE International, 2018).
Article by: Gretchen Jacobson
Read the article online at: https://www.worldpipelines.com/special-reports/05122018/the-history-of-nace-international-standards/
You might also like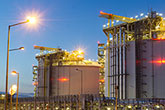 Prices pick up slightly but continue to remain deflated worldwide; prices did not respond as they did in 2022 despite disruption of gas pipeline supplies in Europe by multiple maintenance works.