---
Gordon Cope explores some of the challenges holding back Canada's oil and gas industry, from public opposition to the rising costs of key pipeline projects.
Canada holds immense oil and gas reserves, both conventional and unconventional. The oilsands, a bitumen deposit in northeast Alberta, contains an estimated 165 billion bbls of reserves. The Montney and Duvernay shales of northwest Alberta and northeast British Columbia (BC) contain trillions of ft3 of gas and large reserves of NGLs. While the bounty represents huge potential for midstream operators, it also attracts significant challenges from environmental groups and even the federal government.
Oilsands
The oilsands have faced adversity over the last decade as climate change protesters target the relatively high greenhouse gas emissions surrounding its development, labelling the output as 'dirty oil'. They have successfully pursued policies of opposing pipeline construction, which is widely considered the most viable and safe way of transporting crude to market. As a result, many international operators have sold their stakes to domestic producers and taken their investment dollars to more promising large-scale opportunities, including offshore Brazil and the Gulf of Mexico.
Even domestic producers are throwing in the towel. For the last decade, Vancouver-based Teck Resources had been stick-handling its CAN$20 billion Frontier oilsands project through the regulatory process. When fully operational, the opencast mine would have generated 260 000 bpd of bitumen.
In late February 2020, Teck withdrew the mining project from the regulatory review process. The company cited insufficient framework that reconciles resources development and climate change in Canada, leaving the project non-viable. "Our global reputation as a reliable, productive nation that welcomes high-quality projects and capital investment has been further damaged," said Tim McMillan, President and CEO of the Canadian Association of Petroleum Producers.
Offshore east coast
International investors have not shunned Canada completely; significant investments by ExxonMobil, Chevron, Equinor and others are being made in the deepwater domains of Newfoundland and Labrador (N&L). The region has been host to a series of fields (such as Hibernia and Terra Nova) for decades, and has produced approximately 20 billion bbls of crude. Independent studies place potential reserves at 52 billion bbls of oil and 200 trillion ft3 of gas. Exploration in adjacent waters has uncovered new major reserves, including Equinor's 300 million bbl Bay du Nord prospect in the Flemish Pass area. ExxonMobil and other license holders in Flemish Pass hope to prove up further finds. N&L production, which currently stands at 275 000 bpd, is expected to rise to 354 000 bpd by 2026.
Unconventional resources
The Montney shale formation, located in northeast BC and northwest Alberta, is rich in natural gas, NGLs and condensate. Canada's National Energy Board (NEB) estimated marketable volumes of 449 trillion ft3 of gas, 14.5 billion bbls of NGLs and 1.1 billion bbls of condensate. Thanks to extensive drilling, production grew to 10 billion ft3/d in 2019, and consultancy Wood Mackenzie expects it to rise to 20 billion ft3/d by 2030. While operators originally focused on the gas portion to firm up LNG reserves, they are now targeting the liquids-rich regions of the play. NOVA Gas Transmission (NGTL), the major pipeline operator in Alberta and BC, intends to spend CAN$1.445 billion over the next three years to handle increased production from the Montney and other regions in western Canada. The plans include spending CAN$493 million to meet aggregate delivery requirements for BC gas entering the Alberta system, as well as CAN$763 million to loop portions of the mainline in Alberta in order to increase network capacity.
Enbridge is proposing the Frontier project for northeast BC. The CAN$2.5 billion network would strip NGLs from natural gas and transport the product by 16 in. pipeline across a distance of 170 km to a rail facility, where it would be loaded and delivered to BC markets. The Calgary-based company cites the lack of straddle plant capacity in the province, which obliges BC users to ship NGL feedstock in from Alberta.
Pembina Pipeline, which purchased Kinder Morgan Canada's assets for CAN$4.5 billion in 2019, continues to expand its transportation and processing network throughout western Canada. Its Phase IV and V expansions in northeast BC and northwest Alberta were completed in late 2019, boosting NGL capacity to 260 000 bpd between Fox Creek, BC and the Alberta border. Pembina has a further four phases under construction or in the planning stages; the ultimate goal is to have four segregated systems (ethane, propane, condensate and crude) capable of transporting up to 1.3 million bpd of liquids from the Montney and Duvernay shales to central Alberta, where they can be further processed into value-added products.
The cost of Pembina Pipeline's Redwater petrochemical facility near Edmonton, Alberta has risen CAN$400 million, to CAN$4.9 billion. The project is a 50-50 joint venture between Pembina and Kuwait's Petrochemical Industries Company. When the plant comes online in mid-2023, it will convert 23 000 bpd of propane into approximately 550 000 tpy of polypropylenes. Keyera Corp. has proposed the Key Access Pipeline System (KAPS) liquids pipeline system for western and central Alberta. The CAN$1.3 billion network would connect NGL fields in northwest Alberta to a fractionation facility near Edmonton, Alberta. The system is proposed to handle the rapidly increasing NGL output from the Montney and Duvernay shale formations, and act as an alternative to Pembina's current monopoly service. The project includes a 16 in. condensate pipeline and a 12 in. NGL pipeline. Keyera and partners expect to have nine plants processing 2.25 billion ft3/d of gas and 130 000 bpd of condensate, and a yet to be disclosed amount of NGL. The system is expected to be in operation by early 2022.
LNG
LNG demand has helped promote major projects in Canada, which is significantly closer to Asia and Europe than sources in the US Gulf Coast. LNG Canada, led by Royal Dutch Shell, announced that it plans to build a four-train plant with a capacity of up to 26 million tpy in Kitimat, BC. In order to service the project, TC Energy is building the Coastal GasLink pipeline, designed to carry up to 2.1 billion ft3/d of gas from northeast BC to the LNG Canada project in the Pacific port of Kitimat. The entire project is expected to cost approximately CAN$40 billion.
To read the rest of this article, please download the full issue of World Pipelines' May issue for free here.
Read the article online at: https://www.worldpipelines.com/special-reports/05052020/one-goal-maximising-potential/
You might also like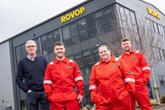 ROVOP focused on producing the 'next generation' of ROV pilots, adds three new trainees to its training programme.