"European Automation and Control Solutions Market in Oil and Gas Industry, Forecast to 2022" report released
Published by Nicholas Woodroof, Editor
World Pipelines,
---
The "European Automation and Control Solutions Market in Oil and Gas Industry, Forecast to 2022" report has been added to ResearchAndMarkets.com's offering.
This study mainly focuses on European Automation and Control Solution (ACS) market (2017-2022) and its application in O&G industries. The product segmentation in this study includes Distributed Control System (DCS), Safety Instrumented Systems (SIS), Supervisory Control and Data Acquisition (SCADA), Programmable Logic Controller (PLC), Human Machine Interface (HMI), Manufacturing Enterprise System (MES), and Industrial Asset Management (IAM).
As the report outlines, the dependence of the oil and gas (O&G) industry on automation has increased in the last decade, and this is expected to double by 2020. As a result of project cancellation followed by the fall in crude oil prices from 2014 – 2016, multiple rounds of industry layoffs were announced that left O&G companies with a reduced number of skilled workers. This increased the dependence of oil companies on automation in order to complete the processes without any delay.
Initiatives to digitise oil fields are being implemented, and this had led to investing in instrumentation in order to increase productivity and complete projects within defined budgets and timelines. These initiatives have been found to be extremely beneficial, especially in offshore rigs, to gathering production data in a timely manner.
The automation sector has evolved from supplying hardware equipment with aftermarket services to becoming more service-based, offering software tools that can translate huge volumes of data into meaningful, intelligent information that can be leveraged to make important business decisions.
The trend of selling individual control systems-such as DCS, SCADA, SIS, MES, IAM - has changed as demand for an integrated system with multiple functionalities has found to increase.
Although the 'digital oilfield' technology has significant growth opportunities within the O&G industry, its full-scale adoption is being limited by the numerous challenges. Some of those are lack of sufficient cyber security, lack of standardisation across platforms and conservative mindset of the top management of the end user companies.
However, with more investments in IoT platforms that offers advanced cyber security and protocol compatibility, it is predicted that these challenges will be soon addressed in addition to plant connectivity.
Market Drivers and Challenges
Intensity of Drivers and Challengers Over Short, Medium, and Long Terms
ACS Market in O&G Industry-Enablers
Digitalisation
Increase in Government Regulations to Enhance Safety and Security
Plant Optimisation and Improve Process Efficiency
Upgrade/Retrofit Existing Automation Systems
ACS Market in O&G Industry-Challenges
Fall in Crude Oil Prices
Conservative Nature of O&G Industry
More Investments in Alternative Energy Sources
Political Turmoil
Key Topics Covered
European Automation and Control Solutions Market in Oil and Gas Industry, Forecast to 2022
Executive Summary
Market Overview - Abbreviations, Scope, and Definitions
Market Drivers and Challenges
O&G Rig Activities in Europe (2013-2017)
IIoT Technology in European O&G Vertical
Automation and Control Solutions
Growth Opportunities and Companies to Action
The Last Word
Read the article online at: https://www.worldpipelines.com/special-reports/04092018/european-automation-and-control-solutions-market-in-oil-and-gas-industry-forecast-to-2022-report-released/
You might also like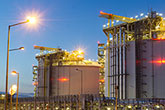 Prices pick up slightly but continue to remain deflated worldwide; prices did not respond as they did in 2022 despite disruption of gas pipeline supplies in Europe by multiple maintenance works.