---
Elastoshore® PG: engineered solutions for pigging technology
Resulting from decades of experience, BASF understands the oil and gas industry's demands and continues to establish state-of-the-art solutions even for highly specialised applications like pipeline maintenance. Pipeline inspection gauges (pigs) play an important role in maintenance processes. Pig systems with a foam core do a perfect job when it comes to cleaning a pipeline and solid systems like discs help to inspect, for example, the welds or internal structures of a pipeline, all without interrupting the process flow.
Cost-effective technology, versatile application
Travelling sometimes thousands of kilometres through the pipelines, pigs have to withstand extreme conditions and therefore need physical properties such as resilience, durability and chemical resistance. The gauges not only have to be suitable for different application areas, but also for different types of pipelines. That is why flexibility is also an essential quality in this field. With Elastoshore® PG, BASF has developed engineered solutions that fully meet these specific requirements – and enables cost-effective pigging system technology. High-performance materials form the ideal basis for solid as well as foam systems, and top coats.
Solid systems – numerous options
PU elastomers are available as two- or three-component systems, completely hg-free. They are typically processed using low pressure multi-component PU dispensing equipment. Further key properties are good oil and abrasion resistance, short demould times and a wide range of hardnesses. The elastomers allow versatile application, efficient and simple processing on standard equipment as well as hot and cold cast technologies.
Flexible foam systems
BASF's foam systems are also characterised by special product properties ensuring easy processing and excellent compressive and tear strength. Thanks to the wide range of moulded densities and diameters the right solution for every pipeline type can be provided.
Readily available
Especially for large-scale projects all over the world,fast and easy access to all materials required is of major importance. Elastoshore PG is readily available – BASF's international network ensures high reliability and short delivery times.
Read the article online at: https://www.worldpipelines.com/special-reports/02112017/elastoshore/
You might also like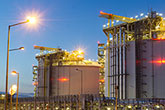 Prices pick up slightly but continue to remain deflated worldwide; prices did not respond as they did in 2022 despite disruption of gas pipeline supplies in Europe by multiple maintenance works.