---
Corinth Pipeworks, the steel pipes segment of Cenergy Holdings has submitted its commitment to the Science Based Targets Initiative (SBTi). The SBTi helps companies establish science-based targets to reduce greenhouse gas (GHG) emissions and transform business operations to fit the future low-carbon economy.
SBTi's framework is the world's first and only science-based comprehensive assessment that aligns corporate net-zero targets with climate data.
Corinth Pipeworks is one of the world's leading manufacturers of steel pipes and hollow sections for the energy and construction sectors, committed in making a positive contribution to the energy transition and to tackle climate change, through new technological solutions that allow the increasing use of renewable sources in the energy mix and through the development of innovative products and the reduction of the carbon footprint of our production activities.
The Company commits to develop science-based targets according to the SBTi Net-Zero Standard announced on 28 October 2021, which includes specific near-term target (5-10yr) requirements combined with net-zero target requirements by no later than 2050. According to them and contributing to the 'Business Ambition for 1.5°C' campaign, the Company aims to achieve an aggressive decarbonisation path of its scope 1 and 2 emissions by at least 4.2%py and scope 3 by a minimum of 2.5% on average annually in line with the Paris Climate Agreement.
Targets adopted by companies to reduce GHG emissions are considered to be 'science-based' if they are in line with what the latest climate science says is necessary to meet the goals of the Paris Agreement – to limit global warming to well below 2°C above pre-industrial levels and pursue efforts to limit warming to 1.5°C.
The Science Based Targets initiative is a collaboration between Carbon Disclosure Project (CDP), the United Nations Global Compact, World Resources Institute (WRI), and the World Wide Fund for Nature (WWF).
Read the article online at: https://www.worldpipelines.com/regulations-and-standards/28022022/corinth-pipeworks-commits-to-the-science-based-targets-initiative/
You might also like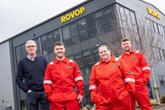 ROVOP focused on producing the 'next generation' of ROV pilots, adds three new trainees to its training programme.