RGU offers skills boost to energy sector with world first in energy data management
Published by Sara Simper, Editorial Assistant
World Pipelines,
---
The new online short course is targeted at Data Managers within the energy sector, and in particular for wind, oil and gas and nuclear, but will also be of interest to anyone considering a career in Data Management.
The programme will enable participants to gather data and information to help inform decision making across the full life-cycle of the energy process, from manufacturing, through to asset decommissioning. The data may be collated from a company's assets such as power stations, turbines, refineries and platforms and this information can then support key decisions including investment design visualisation, digital twins, staff training, maintenance and the meeting of regulatory requirements.
Donella Beaton, Vice Principal for Economic Development at RGU said: "RGU is delighted to launch the world's first energy data management short course, developed to address a recognised skills gap in the industry. Companies understand that their data is really valuable but many do not yet have the capability to gather, organise and interrogate this rich asset, to aid their decision making. RGU's Energy Data Management short course will help to address this challenge.
The course is applicable to a number of different energy sources, particularly important for businesses as they plan for energy transition.
The course will also be helpful for individuals as they consider their role in the workforce of the future".
The new course has been created following industry input from energy companies including Wood, BP, Leidos and Sword and course leaders have liaised closely with the UK offshore oil and gas industry's Information Management Forum.
Neale Stidolph, Head of Information Management at the Sword Group, said: "Having been involved in the Energy IM profession for many years as a service provider it is clear this further education is necessary. Energy companies have increased pressures to work safely, efficiently and meet regulatory needs. Energy data management really helps organisations meet those needs, through appropriately skilled professionals. It is great to see RGU taking the initiative with this course."
RGU has a strong track record in providing innovative new energy courses having already established an online Graduate Certificate in Petroleum Data Management – the first of its kind in the world - which was developed in collaboration with the Common Data Access Limited (CDA), a not-for-profit subsidiary of OGUK that was set up to provide data management services to the UK oil and gas industry.
A number of fee-waiver places are available on the new course, funded by the Scottish Government through the Scottish Funding Council's Upskilling Fund and the North East Economic Recovery and Skills Fund (NEERSF). There is also the option for participants to self-fund.
The new Energy Data Management course is part of a wider upskilling programme from the university, as part of its drive to support economic recovery and energy transition.
Read the article online at: https://www.worldpipelines.com/regulations-and-standards/10022022/rgu-offers-skills-boost-to-energy-sector-with-world-first-in-energy-data-management/
You might also like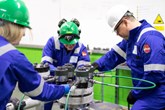 3t EnerMech named regional winner at top engineering awards for the second year in a row.