FOSA praises new Federal Highway Administration 'Dig Once' regulations
Published by Sara Simper, Editorial Assistant
World Pipelines,
---
The Fiber Optic Sensing Association (FOSA), the nation's premier trade association dedicated to fibre optic sensing, praised new regulations going into effect from the Federal Highway Administration implementing 'Dig Once' policies. Opportunities to install fibre optic cable will be more broadly publicised when highway rights-of-way are opened through construction.
Commenting on the new rules going into effect on 3 March, FOSA Executive Director Mark Uncapher said: "Dig Once reduces the number and scale of excavations along highway rights-of-way when installing telecommunications infrastructure. It applies the familiar admonishment to carpenters to 'measure twice, cut once'. In the context of infrastructure construction, this advice reminds us to double-check in advance to avoid construction later."
FOSA Chairman Dave Cunningham noted, "As utility construction ramps up to implement the national priority of improved broadband access for every American, Dig Once will play an important role in ensuring that the infrastructure is deployed cost-effectively and safely."
As resources to assist implementation, the association has produced the FOSA DIG ONCE PRIMER, DIG ONCE POLICY: 16 STATE MODELS, and FOSA – DFOS Installation Considerations for Highways.
Beginning in 2009, Rep. Anna Eshoo (D-Ca) introduced the first of several Dig Once bills to expand the deployment of broadband internet service. As part of the 'Mobile Now' provisions of the Consolidated Appropriations Act of 2018, the Department of Transportation's Federal Highway Administration had been directed to issue Dig Once rules for federal-aid highway projects.
Read the article online at: https://www.worldpipelines.com/regulations-and-standards/04032022/fosa-praises-new-federal-highway-administration-dig-once-regulations/
You might also like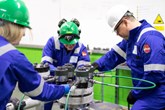 3t EnerMech named regional winner at top engineering awards for the second year in a row.