---
The B.C. government says Ottawa is interfering in an independent review connected to the Kinder Morgan Trans Mountain pipeline expansion, just days after Alberta Premier Rachel Notley called on Ottawa to intensify its efforts to defend the project.
"It's both a highly unusual and a highly troubling intrusion on a province's right to enforce its own permits, its own regulations and the interests of its own citizens," B.C. Environment Minister George Heyman said in an interview yesterday. "We do not take kindly to this intervention."
Federal Natural Resources Minister Jim Carr announced in a statement on Wednesday that Canada has filed a letter to the National Energy Board supporting a process to quickly resolve conflicts with local and provincial governments that could slow down construction on the pipeline.
Both Ms. Notley and Mr. Carr are scheduled to speak in Vancouver on Thursday to defend the pipeline expansion project that will help Alberta oil producers expand their export route to Pacific markets. Last week, the Alberta Premier said Ottawa needed to "step up" its support for the pipeline expansion.
The NEB is hearing a complaint from Kinder Morgan, which has already begun construction, that the city of Burnaby, B.C., is blocking the project by refusing to issue four permits. The city, which opposes the project, denies any unreasonable delay.
The company – now with Ottawa's support – wants a standing panel to allow any future permit disputes to be resolved quickly.
The government's response in a rare case put before the regulator comes as Kinder Morgan pushes its CAN$7.4 billion (US$5.9 billion) pipeline in an increasingly public way. Since its federal approval last year, the project has run into increased roadblocks with lower governments and environmentalist and aboriginal opposition.
The expansion of the current Trans Mountain pipeline from Alberta would nearly triple its capacity to 890 000 bpd.
Read the article online at: https://www.worldpipelines.com/project-news/30112017/bc-government-says-ottawa-is-interfering-in-pipeline-project/
You might also like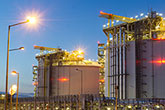 Prices pick up slightly but continue to remain deflated worldwide; prices did not respond as they did in 2022 despite disruption of gas pipeline supplies in Europe by multiple maintenance works.