---
Corinth Pipeworks has been awarded a major offshore linepipe contract by Energinet, comprising 114 km of 32 in. and 36 in. SAWL steel pipes with three-layer polyethylene anti-corrosion coating, epoxy lining for flow assurance, concrete weight coating with sacrificial anodes and bends.
The linepipe awarded to Corinth Pipeworks forms the Danish offshore part (Energinet LOT1) of the Baltic Pipe pipeline and comprises 43 t of steel pipes. Corinth Pipework's proposal was evaluated and ranked first amongst other international manufacturers, as being the most advantageous in terms of price, production quality, delivery and contract terms.
Corinth Pipework's CEO Mr Ilias Bekiros said "we are very happy that CPW has been selected to supply a major linepipe package to another major European Project of Common Interest (PCI). This award will be a fitting testament to the leading position CPW now has in the global linepipe supply market, and it shows the confidence Energinet has in our ability to satisfy all the challenging requirements of the offshore part of the Baltic Pipe project".
Pipes manufacturing and coating will take place at Corinth Pipeworks' facilities in Greece. Deliveries are planned to commence late in 2019 and continue through into 2021, when the offshore installation phase is expected to begin.
Baltic Pipe project is a major gas infrastructure project that aims at creating a new supply corridor for gas in the European gas market. The new gas pipeline will connect the existing Norwegian gas network in the North Sea with the Danish and Polish gas transmission networks.
Energinet is the Danish national transmission system operator for natural gas and electricity. It is an independent public enterprise owned by the Danish state under the Ministry of Climate and Energy.
Read the article online at: https://www.worldpipelines.com/project-news/28082019/energinet-announces-award-of-baltic-pipe-offshore-to-corinth-pipeworks/
You might also like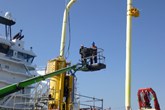 AIS awarded another custom coating project offshore Brazil.