---
Former Premier Colin Barnett says a "nation building" gas pipeline connecting Western Australia (WA) with the east coast would kick start a new resources boom and solve the nation's growing gas shortage. However, there is competition with a proposed LNG alternative.
Barnett claims the pipeline would cost approximately AUS$5 billion and could be running in little more than a year, providing a steady stream of gas from WA to industry in New South Wales (NSW) and Victoria. He says the pipeline, which would require a length of approximately 3000 km, would provide gas at marginally cheaper prices than were currently available in the east, while guaranteeing supply. Barnett argues the spot price for gas in the east is between AUS$9 – 12 /GJ. In WA, it is between AUS$3.50 – $4 /GJ. Barnett estimates the cost of transporting the gas through the pipeline would be about AUS$3 /GJ.
Plans have recently been put forward by businessman Andrew Forrest for an alternative to the pipeline. Forrest is considering joining the world's largest LNG buyer to ship gas to NSW from WA to alleviate the east coast gas shortage that has been caused by soaring LNG exports from Queensland. A vessel – a floating storage and regasification unit – would be anchored off a port in NSW and would receive the LNG before sending it to the onshore pipeline network.
Barnett has criticised Forrest's plans to ship LNG to the east, labelling it "odd" and not understanding why one would go to the expense of freezing and shipping LNG when it can be transported by pipe.
Barnett will discuss his vision for a transcontinental gas pipeline at a conference in Sydney today.
Read the article online at: https://www.worldpipelines.com/project-news/28022018/australias-west-east-gas-pipeline-is-at-threat-from-an-lng-proposal/
You might also like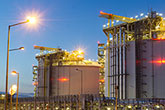 Prices pick up slightly but continue to remain deflated worldwide; prices did not respond as they did in 2022 despite disruption of gas pipeline supplies in Europe by multiple maintenance works.