---
Another major milestone has been reached on the Northern Gas Pipeline (NGP) with leading energy infrastructure company Jemena announcing that construction of the 622 km pipeline is complete.
Antoon Boey, Executive General Manager of Corporate Development, Jemena confirmed the landmark was reached this week with all 622 km, and approximately 34 000 lengths of pipe, being welded, lowered in and now fully buried in the trench.
"The sheer scale of this project is enormous – the largest current gas pipeline project in Australia. This milestone is due to the fantastic effort of those working in remote, hot and often dusty conditions," said Mr Boey.
"Overall the project is tracking on schedule. Apart from the pipeline, we're thrilled that construction of the Mount Isa Compressor Station is finished and completion of the Phillip Creek Compressor Station in the Northern Territory is imminent."
The pipeline and both compressor stations will now be rigorously checked before gas commissioning later this year.
"When Jemena was awarded the contract to develop and construct the NGP in 2015 we committed to constructing the pipeline on time, safely, providing training and employment opportunities for people from the communities surrounding the pipeline, and introducing competition into the east-coast gas market," said Mr Boey.
"What we're seeing today is these promises being fulfilled. We are so proud of how the NGP has provided training, development, and other opportunities to people from the communities surrounding the pipeline.
"Almost 800 jobs have been created as part of the pipeline's planning and construction phase – around 700 of which have been awarded to people from local communities along the pipeline route. Plus we've seen US$120 million spent with businesses in the Northern Territory and Queensland."
Mr Boey said the Northern Territory had a unique opportunity to grow its economy and contribute to the east coast gas shortage.
"Jemena is progressing its plans to extend and expand the Northern Gas Pipeline and will continue to work with the community to understand how they can contribute to this next phase of growth and activity.
"Should development of the Beetaloo Basin proceed as expected, we are seeking to invest significantly more across Northern Australia. This could create around 4000 new jobs during the project's construction phase, building on the skills the NGP has already brought to the region."
On commissioning, the NGP can deliver 85.3 million ft3/d of much needed gas per day, with 70% of available capacity in year one having already been contracted to support manufacturing and jobs in Northern Australia.
Last month Jemena announced its agreement with Incitec Pivot Limited (IPL) to transport at least 30.3 million ft3/d of gas to supply its Gibson Island facility. This follows Jemena's foundation agreement with the Northern Territory's Power & Water Corporation to transport 29.3 million ft3/d of gas to IPL's Phosphate Hill facility for 10 years.
"Discussions with other parties are also well advanced, and we remain confident that NGP will be fully contracted by the time it is operational later this year" said Mr Boey.
Read the article online at: https://www.worldpipelines.com/project-news/27072018/northern-gas-pipeline-construction-complete/
You might also like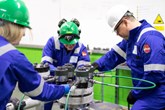 3t EnerMech named regional winner at top engineering awards for the second year in a row.