---
A Travis County district court this week dismissed a lawsuit against two Baker Botts clients – Kinder Morgan Texas Pipeline, LLC and its affiliate, Permian Highway Pipeline, LLC – that had sought to enjoin their construction of the Permian Highway Pipeline, a US$2 billion, 430 mile natural gas pipeline.
Hays County, the City of Kyle, and three landowners filed the lawsuit in April, claiming that the process for determining the route of natural gas pipelines violates the Texas Constitution. The plaintiffs also sued the Texas Railroad Commission.
Travis County District Judge Lora Livingston ruled in favour of Baker Botts' clients on all counts and granted summary judgment dismissing all of the plaintiffs' claims. The court also concluded that it lacked jurisdiction over the plaintiffs' claims against the Texas Railroad Commission.
"This ruling is in line with well-established Texas precedent regarding the constitutionality of the eminent domain process and the substantial safeguards that the process provides to Texas landowners," said Baker Botts Partner Bill Kroger. "This was the most important oil and gas pipeline case pending in the state, and we are happy to have achieved such a great result for our clients."
The Permian Highway Pipeline is a US$2 billion project that will provide much-needed additional natural gas transport capacity from the Permian Basin in West Texas to growing market areas in the Texas Hill Country and along the Texas Gulf Coast.
Throughout the pipeline's development, its route has been carefully evaluated to minimise potential impacts to the environment and to landowners, while also being cost-effective and constructible.
Upon completion, the Permian Highway Pipeline will be able to transport up to 2.1 billion ft3/d of dry natural gas through approximately 430 miles of 42 in. pipeline from the Waha, Texas area to the Katy, Texas area.
This project is expected to provide almost US$1 billion in additional revenue each year to the state of Texas and its counties to support local schools, first responders, and other vital needs. Additionally, individual leaseholders are projected to receive more than US$2 billion per year in new oil and natural gas royalties.
The case is Sansom et al. v. Texas Railroad Commission et al., Cause No. D-1-GN-19-002161, in the 345th District Court for Travis County, Texas.
The Baker Botts team that represented Kinder Morgan Texas Pipeline, LLC and Permian Highway Pipeline, LLC included Bill Kroger, Jim Barkley, and Amy Hefleyfrom the firm's Houston office, and Gavin R. Villareal and Thomas R. Phillips from the firm's Austin office.
Read the article online at: https://www.worldpipelines.com/project-news/27062019/baker-botts-secures-dismissal-of-pipeline-lawsuit/
You might also like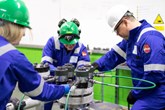 3t EnerMech named regional winner at top engineering awards for the second year in a row.