---
Work to construct the European Gas Pipeline Link (EUGAL) in Mecklenburg-Western Pomerania has been given the go-ahead. The Stralsund Mining Authority's decision brings together all the individual approvals needed to build the EUGAL in Mecklenburg-Western Pomerania.
After Brandenburg and Saxony, Mecklenburg-Western Pomerania is the third federal state to give all the necessary approvals for the EUGAL-pipeline. "The approval for the EUGAL is an important step toward making the German and European pipeline network more secure and flexible in the long term," says Ludger Hümbs, EUGAL Chief Project Manager. "In order to carry out projects like the EUGAL, it is important to involve all the relevant people continuously and from an early stage. Even during the construction phase, we want to remain in contact with all local residents and continue the dialogue."
Construction work for the 102 km section in the Vorpommern-Greifswald district will begin shortly. Initial work will be carried out in the area around the Peene intersection near Stolpe and around Pasewalk. Removal of the topsoil will then begin at further sites along the route. The necessary preparations for construction were already carried out in the past few weeks. This included setting up construction offices along the planned route and taking steps to protect traffic on the adjacent roads. Construction of the EUGAL section in Mecklenburg-Western Pomerania will see two parallel pipeline strings built. The work is scheduled for completion by the end of 2020. All owners and leaseholders whose plots of land are affected will be notified again before work starts.
Approximately 480 km in length, the EUGAL gas pipeline will run from Lubmin at the Bay of Greifswald as far as the German/Czech border. In the section under approval in Mecklenburg-Western Pomerania, the pipeline will run exclusively through the Vorpommern-Greifswald district. The EUGAL's starting point – the natural gas receiving station 'Lubmin 2' – was already approved in a separate procedure and is now under construction. From there, the EUGAL will run in a southerly direction, passing Anklam and Pasewalk, as far as the border with Brandenburg near Damerow.
In order to minimise the space required, the EUGAL will be laid largely parallel to the existing OPAL gas pipeline. The pipeline will be able to transport up to 55 billion m3/y of gas. With the new pipeline, GASCADE is responding to the growing demand for gas and gas transport capacity in Europe.
Image courtesy of EUGAL.
Read the article online at: https://www.worldpipelines.com/project-news/26102018/eugal-pipeline-fully-approved/
You might also like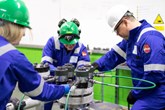 3t EnerMech named regional winner at top engineering awards for the second year in a row.