---
The Nigeria-Morocco project would be the continuation of the West African Gas Pipeline (GOA) – which links Nigeria to Ghana through Benin and Togo – to run 5000 km from Nigeria to Morocco. It would cost an estimated US$20 billion, serve 12 African countries and approximately 300 million potential consumers.
The project was first announced following a meeting between King Mohammed VI and Nigerian President Muhammad Buhari, on the sidelines of the UN Climate Summit COP22 in Marrakech in November 2016, and was further examined by the two heads of state during the Monarch's visit to Abuja in December 2016.
"This strategic gas pipeline, which may stretch up towards Europe, will promote the emergence of an integrated north west African zone and enable the region to achieve energy independence, accelerate the implementation of electrification projects, and develop important economic and industrial activities" reports a statement from the Royal Cabinet.
However, this pipeline has seen recent opposition by 40 organisations who have signed a statement calling for the cancellation of the pipeline in the interest of the people and the planet. The national and international groups involved include ATTAC Morocco, Health of Mother Earth Foundation (HOMEF), OilWatch, and Friends of the Earth.
The groups believe that the project will be a financial sinkhole and will cost far more than the forecast US$20 billion, which will increase the debt burden of their countries. Further, there is concern that the construction of the pipeline will increase the extraction and consumption of fossil resources, the main causes of global warming. In addition, the campaigners fear the environmental implications of the extraction, transportation and use of fossil fuels, the use of various chemical substances and wastes, and the seismic studies on marine fauna.
The groups also reject the project on the grounds that it is a top-down project that does not consider the needs of the populations and the environment.
Read the article online at: https://www.worldpipelines.com/project-news/26032018/multiple-ngos-call-for-the-nigeria-morocco-gas-pipeline-project-to-be-scrapped/
You might also like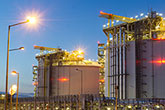 Prices pick up slightly but continue to remain deflated worldwide; prices did not respond as they did in 2022 despite disruption of gas pipeline supplies in Europe by multiple maintenance works.