---
Work has stopped on the Bayou Bridge crude oil pipeline in Louisiana following the filing of a lawsuit by local and environmental groups against the US Army Corps of Engineers.
The groups challenged the permit for the pipeline and cited risks to the environment, health and local economy.
US District Judge Shelly Dick, granted the environmental groups request for a preliminary injunction that temporarily halts the project in the Atchafalaya Basin until their lawsuit is resolved. It is currently unclear whether the order is limited solely to construction in the Atchafalaya Basin or if it applies to the entire length of the pipeline.
The Bayou Bridge pipeline runs 162 miles from Lake Charles to St. James Parish and is a joint venture of Energy Transfer Partners and Phillips 66. The pipeline route passes through the Atchafalaya Basin, a one million acre expanse of swampland. This basin is the source of the dispute, with environmentalists claiming it is critical to the swamp's flood protection system and is a source of livelihood for the commercial fishing industry.
The representative for the Association of Oil Pipelines, recently noted the US Army Corps of Engineers found that minimisation, avoidance and mitigation efforts made during construction of the pipeline would result in "zero net loss of jurisdictional wetlands." Furthermore, they reported that the US Fish and Wildlife service said "the project is not likely to adversely affect any endangered species."
Construction on the US$750 million pipeline has already begun. The first phase, a 30 in. pipeline from Nederland, Texas, to Lake Charles, went into service in April 2016. The second phase, Lake Charles to St. James Parish, began in January 2018. Once complete, Bayou Bridge will have the capacity to transport 480 000 bpd to refineries along the Mississippi River. Service is expected to commence in the latter end of 2018.
While the lawsuit was aimed at the US Army Corps of Engineers, which were responsible for issuing the necessary permits for the pipeline construction, the federal judge's order also applies to Bayou Bridge Pipeline LLC, the owner of the pipeline, and Stupp Bros. Inc., whose Stupp Corporation was building the pipeline.
Read the article online at: https://www.worldpipelines.com/project-news/26022018/louisiana-pipeline-construction-is-halted-after-permit-is-revoked/
You might also like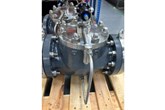 Oxford Flow expands its product range and grows market potential with new high- and low-pressure pilots.