---
The European gas pipeline link (EUGAL) has entered a new project phase in Mecklenburg-Western Pomerania.
The final official review of the preferred route for section of the EUGAL pipeline in Mecklenburg-Western Pomerania will take place with the opening of the planning approval procedure by the Stralsund Mining Authority.
Alongside the public interest bodies, such as towns and municipalities, the residents are also invited to view the application documents from 24 October to 23 November 2017 in the towns and municipalities affected, and to comment on them by 27 December 2017. The process will culminate in an official planning approval decision by the Mining Authority that will determine the final course of the over 100 km long route in Mecklenburg-Western Pomerania and include all the relevant conditions and requirements.
"We are aware that implementing a major infrastructure project like EUGAL can only succeed together with the population. Their participation in the planning approval procedure gives us the opportunity to receive other important insights and suggestions from the community," says Ludger Hümbs, Chief EUGAL Project Manager. EUGAL was already presented to the general public along the planned pipeline route in the fall of 2016.
From its starting point at Lubmin at the Bay of Greifswald to the Czech border, the EUGAL pipeline extends over a total length of around 485 km. In the section under approval in Mecklenburg-Western Pomerania, the pipeline runs exclusively through the Vorpommern-Greifswald district. In order to minimise the space required, the pipeline will be laid as close as possible to the existing OPAL gas pipeline. The pipeline will be able to annually transport up to 51 billion m3 of natural gas. With the new pipeline, GASCADE is responding to the growing demand for gas and gas transport capacity in Europe.
Read the article online at: https://www.worldpipelines.com/project-news/25102017/planning-approval-procedure-for-eugal-pipeline-soon/
You might also like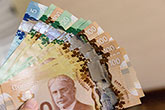 Trans Mountain Corp applies to regulators for tolls on its long-delayed 590 000 bpd pipeline expansion.