---
Afghanistan will host leaders from Turkmenistan, Pakistan and India today in Herat for the ground-breaking ceremony of the Afghan section of the TAPI pipeline.
Turkmenistan – Pakistan – Afghanistan – India, known widely as TAPI, is a US$10 billion mega project gas pipeline which will connect the four nations and, following many delays, is expected to become operational this year.
Turkmenistan holds the world's fourth largest natural gas reserves, but in recent years has been strongly dependent on gas exports to China after Russia reduced their gas imports. TAPI will enable Turkmenistan to access new Asian consumers other than China, who purchases 33 billion m3/y of gas.
The 1814 km pipeline is estimated to transport 33 billion m3/y of natural gas from Turkmenistan to South Asia for the next 30 years. Officials report that India and Pakistan will purchase 14 billion m3 each and Afghanistan the remaining 5 billion m3.
TAPI has been supported by the US and the Asian Development Bank and been promoted by Turkmenistan since the 1990s but has been shrouded in delays because of the problems crossing Afghanistan.
The Afghan government see the pipeline project as an economic milestone, with Kabul expected to earn up to US$500 million/y in transit duties and over 25 000 local jobs created. Furthermore, President Ashraf Ghani of Afghanistan, and Gurbanguly Berdymukhamedov, President of Turkmenistan, are inaugurating work on the construction of a railway link between the two nations, in addition to a fibre optic connection which will run the length of the TAPI route.
President Ashraf Ghani said that "TAPI is a sign of transforming Afghanistan from a confrontation point into a regional and international cooperation point, and the nation not only welcomes the project but most importantly the concept."
Read the article online at: https://www.worldpipelines.com/project-news/23022018/tapi-is-due-to-break-ground-today/
You might also like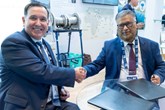 The partnership is to bring critical flange isolation offerings for the Kingdom of Saudi Arabia.