---
Recently, the Virginia Department of Environmental Quality approved the Atlantic Coast Pipeline's erosion and sediment control plans and stormwater management plan. The agency's approval allows the state's water quality certification to take effect and is the final state approval needed to begin pipeline construction in Virginia. The following is a statement by Atlantic Coast Pipeline spokesperson Aaron Ruby:
"This is a major step forward for the project and brings our region one step closer to a growing economy, a cleaner environment and greater energy security. Thousands of hardworking Virginians and local businesses across the state will soon be hard at work building this transformational project.
The agency's process was the most sweeping and rigorous regulatory review of any energy infrastructure project in Virginia history. The agency spent more than a year reviewing site-specific environmental controls for every inch of the pipeline's path in Virginia. No other project in the state's history has received as much regulatory scrutiny or been developed with greater attention to public safety and the environment. We've put in place some of the strongest environmental protections ever used by the industry to keep soil and sediment out of our streams and rivers during construction. These protections have proven effective in West Virginia and North Carolina, where construction has been underway for several months.
With this final state approval for pipeline construction in place, we are requesting a Notice to Proceed with full construction in Virginia from the Federal Energy Regulatory Commission. This project is all about building a better economic and environmental future for our region. Public utilities across our region are depending on it to meet the growing energy needs of consumers and businesses. We're eager to get to work in Virginia so we can build on the significant progress we've made in West Virginia and North Carolina."
Read the article online at: https://www.worldpipelines.com/project-news/22102018/atlantic-coast-pipeline-receives-final-state-approval-for-construction-in-virginia/
You might also like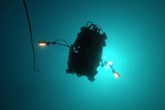 Voyis and Deep Trekker, have joined forces to achieve the successful fusion of Voyis' Discovery Camera with Deep Trekker's REVOLUTION ROV.