---
A working meeting between Alexey Miller, Chairman of the Gazprom Management Committee, and Pasquale Terracciano, Ambassador of the Italian Republic to the Russian Federation, took place in Moscow yesterday.
The parties discussed the state and prospects of bilateral cooperation. It was noted that Gazprom had been a reliable supplier of gas to Italy for several decades. The Italian Republic is currently the third-largest importer of Russian gas. According to preliminary data, Russia's gas exports to Italy grew by 99% in 1 - 19 March 2018, compared to the same period of last year.
Particular attention at the meeting was paid to the diversification of gas export routes from Russia to Europe. The parties reviewed the ongoing efforts to establish a southern supply route stretching across the Black Sea. Alexey Miller informed Pasquale Terracciano of the completion of over 50% of the offshore section of the TurkStream gas pipeline. It was highlighted that the second string of the pipeline would provide European consumers with 15.75 billion m3/y of gas.
Background
In 2017, a total of 23.8 billion m3 of Russian gas was delivered to Italy.
Gazprom's main partners in the Italian market are Eni and Edison.
On 21 March 2017, Gazprom and Eni signed a Memorandum of Understanding to develop the southern corridor for gas supplies to European countries, including Italy.
On 2 June 2017, Gazprom, Edison, and DEPA inked the Cooperation Agreement aimed at establishing a southern route for Russian gas supplies from Russia to Europe, which would run across Turkey to Greece and further to Italy.
TurkStream is the project for an export gas pipeline stretching across the Black Sea from Russia to Turkey and further to Turkey's border with neighbouring countries. The first string of the pipeline is intended for Turkish consumers, while the second string will deliver gas to Europe. Construction of TurkStream's offshore section commenced on 7 May 2017.
Read the article online at: https://www.worldpipelines.com/project-news/21032018/gazprom-and-italian-ambassador-discuss-ongoing-efforts-for-gas-supplies-to-europe/
You might also like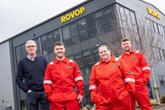 ROVOP focused on producing the 'next generation' of ROV pilots, adds three new trainees to its training programme.