---
The following is a statement by the Atlantic Coast Pipeline regarding the US Court of Appeals for the Fourth Circuit's decision to vacate the air permit for the Buckingham compressor station:
"The Buckingham air permit unanimously approved by the State Air Pollution Control Board is the strictest air permit of any compressor station in the country, with protections far exceeding the US EPA's guidelines for vulnerable populations. As a result, the Buckingham compressor station will have significantly fewer emissions and more air quality monitoring than any other facility of its kind.
"In its opinion, the Court recognised the stringency of the permit, while requiring the state to provide more analysis and explanation to support its approval. We will immediately begin working with the state to resolve the procedural issues identified by the Court. We are confident the additional analysis required by the Court can be completed in a timely manner. We expect the project will still deliver significant volumes to customers under our existing timeline, even as we work to resolve this permit.
"The Atlantic Coast Pipeline is needed now more than ever for our economy and to accelerate our path to a low-carbon future. New infrastructure will solve the chronic shortages of natural gas in Hampton Roads and eastern North Carolina and allow these communities to revitalise their manufacturing economy. It will also provide the reliable natural gas we need to support the rapid expansion of renewables across Virginia and North Carolina. This project is all about growing the economy and moving toward clean energy, and we remain totally committed to its completion."
Read the article online at: https://www.worldpipelines.com/project-news/20012020/acp-compressor-station-permit-vacated/
You might also like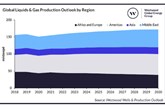 New report from Westwood finds liquids and gas production set to reach 173 million boe/d by 2030, with 9% growth on 2022 levels.