---
The Trans Adriatic Pipeline (TAP) AG and the Greek National Natural Gas System Operator (DESFA) SA have signed an agreement on the maintenance of Greek section of the TAP pipeline. The agreement was ratified by the competent Regulatory Authority for Energy (RAE) on 12 December 2018.
According to the agreement, DESFA will be responsible for the maintenance of TAP facilities along the 550 km of the Greek section of the pipeline, extending from Kipoi in Evros close to the Greek-Turkish border, to Ieropigi, Kastoria, on Greece's border with Albania. The maintenance agreement covers a period of five years, following the beginning of TAP's commercial operation in 2020, while the contract also includes pre-operational support.
The agreement was welcomed by the leadership teams of both companies. Representing DESFA, its President and CEO, Sotirios Nikas, stated: "DESFA participates in one of the most significant energy projects currently implemented worldwide, assuming a role that is both exceptionally critical and active. This comes as an acknowledgement of the high level of expertise we have developed these past years. And it's a very important day for DESFA, as an internationally recognised provider of non-regulated services. We are most pleased with the agreement signed today, as it will lead to the further utilisation of the experienced DESFA staff on the one hand, while also creating new and specialised jobs on the other, increasing significantly DESFA's revenues from non-regulated services."
TAP's Managing Director, Luca Schieppati, noted: "This is another milestone in the overall progress of the TAP project, which is already 82% complete. This agreement marks another step towards the completion of the project and the beginning of commercial operations in 2020. We would like to thank DESFA for their ongoing support and cooperation in reaching this stage and we look forward to continue working closely together with them in the future. Next steps for TAP include building the 105 km offshore installation of the pipeline and the commissioning process."
TAP's President, Walter Peeraer, added: "With a year to go until 2020, TAP is focused on operational readiness and the beginning of commercial operations. This agreement marks the start of a long-term collaboration with DESFA, whose support during TAP's operational phase will be critical to safely delivering natural gas to Europe, thus securing and diversifying energy supplies."
Read the article online at: https://www.worldpipelines.com/project-news/18122018/maintenance-agreed-for-taps-greek-pipeline-section/
You might also like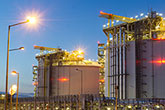 Prices pick up slightly but continue to remain deflated worldwide; prices did not respond as they did in 2022 despite disruption of gas pipeline supplies in Europe by multiple maintenance works.