---
By the end of April 2018, the Trans Adriatic Pipeline (TAP) had donated more than 16 000 seedlings and approximately 57 000 kg of fertilizer to farmers affected by the construction of the TAP pipeline. The provision of farm inputs and replacement fruit tree seedlings is part of TAP's Livelihood Assistance and Transitional Support (LATS) programme. When completed, the LATS programme will have distributed 222 t of fertilizers and 70 000 seedlings.
While TAP provided compensation to affected farmers at full replacement cost, in line with international best practice, the TAP LATS programme is focussed on ensuring that farmers are in a position to restore, if not improve their livelihoods following completion of pipeline construction.
Vangjel Bixheku, a farmer in the Roskovec region said: "The land has been reinstated and you cannot even tell that TAP crossed underneath here. In addition, TAP has given us new olive seedlings and fertilizer and the terraces have been handed over in their original condition."
Arjola Tola, the Head of Land Management for TAP Albania, noted: "Through its Livelihood Assistance and Transitional Support, TAP directly assists in the livelihood restoration of farmers impacted by pipeline construction. To date, we have checked 65% of the parcels crossed by the pipeline to confirm that land reinstatement has been carried out in line with the highest standards. Also, part of the seedlings and fertilizer have already been handed out to farmers. The provision of fertilisers and seedlings will resume in October, in line with agricultural best practice and the optimal season for planting of fruit trees."
LATS is a voluntary TAP programme, which includes activities such as:
Assistance to encourage farmers to return to agricultural activities as soon as possible after completion of pipeline construction.
Soil analysis to inform crop suitability and fertiliser requirements.
Provision of fertilizer and replacement fruit tree seedlings.
Agricultural extension to promote improved framer practice and farm productivity.
Support in completing the land ownership documentation so that land-related compensation can be provided.
Training on revenue management.
Temporary support for vulnerable persons.
TAP will provide support and assistance with livelihood restoration and improvement for a period of two to three years from the conclusion of construction activities, on a case by case basis.
Read the article online at: https://www.worldpipelines.com/project-news/18072018/tap-pipeline-provides-70-000-seedlings-to-albanian-farmers/
You might also like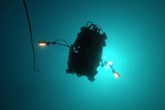 Voyis and Deep Trekker, have joined forces to achieve the successful fusion of Voyis' Discovery Camera with Deep Trekker's REVOLUTION ROV.