---
After attempting to reach the Dakota Access pipeline's (DAPL) horizontal drill pad, three people have been arrested, according to UPI and RT. Meanwhile, RT, the Daily Beast and Fox News have reported that the North Dakota Army National Guard has deployed an 'anti-drone missile system' at a DAPL site.
On 16 Janaury, The Bismarck Tribune reported that approximately 200 protesters moved along the Cannonball River, which is currently frozen heading north on the Missouri River from their primary camp. Once they were approximately 700 ft away from DAPL's drill pad, the group allegedly cut into a fence.
The drill pad is set to be the starting point for DAPL's crossing under Lake Oahe.
While law enforcement officers and National Guard soldiers holding plastic baton shields prohibited protesters from entering DAPL's private property, the Morton County Sheriff's Office stated that three people were taken into custody in Mandan (North Dakota) for attempting to reach the horizontal drill pad. The protesters were reportedly charged with criminal trespass, inciting a riot and resisting arrest. This has brought the total number of DAPL-related arrests since 10 August 2016 to 589, according to the Bismarck Tribune.
Protesters have since claimed that police used tear gas and other methods to disrupt the demonstrations.
Concurrently, on 16 January, protestors spotted one of two Avenger missile systems. Describing himself as a 'citizen journalist', Jon Ziegler posted images of the surface-to-air missile launcher at the site onto Facebook. The system was located on a hill to guard the DAPL drill pad.
Fox News claims that "the presence of the system could exacerbate things between the Standing Rock protesters and authorities. Police have already shot down a drone for "operating in a threatening manner" and used water cannons on protesters in frigid temperatures."
North Dakota Guard spokesman William Prokopyk told the Daily Beast: "These systems have observation capabilities and are used strictly in the observation role to protect private property and public safety." He also assured that the missile tubes were not loaded.
Read the article online at: https://www.worldpipelines.com/project-news/18012017/arrests-made-in-dapl-protest/
You might also like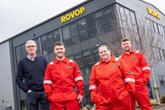 ROVOP focused on producing the 'next generation' of ROV pilots, adds three new trainees to its training programme.